Third-party marketplaces are dynamic. There are constant changes to competitor listings that can change results in the Buy Box. SellerActive helps you stay in control of Buy Boxes by reacting faster to changes both in the marketplace and your product
Triggers and Causes
SellerActive watches for changes in inventory, product listings, or the marketplace. Any marketplace or seller-side trigger can cause repricing. Repricing is SellerActive's primary tool for gaining and maintaining control of the Buy Box.
What changes can trigger repricing?
Repricing can be triggered by marketplace changes affecting your product listings.
Typical marketplace changes:
Product rankings
Competitor price changes
Changes in Buy Box ownership
There are also triggers that can take place on your side, the seller side of the transaction. SellerActive monitors these to determine if repricing is needed.
Some seller-side triggers:
Pricing
Pricing strategy shifts
Change in cost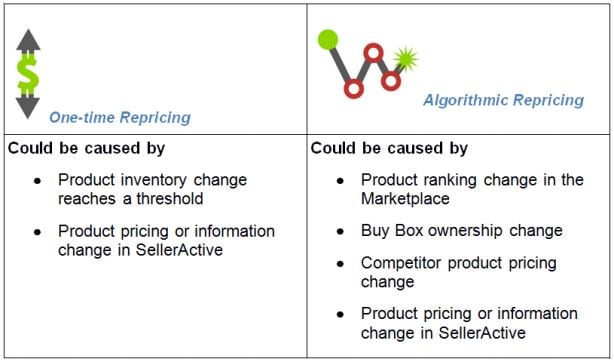 How much control do you have over repricing?
In the SellerActive configuration screens, pricing is under your control. In addition to setting upper and lower limits, you can set a preferred price or fallback pricing strategy for even more control.
Note: It is important to specify a range of prices for each product, because SellerActive pricing strategies need some space to maneuver in order to achieve your goals.
SellerActive pricing is intelligent. An optional setting calculates fees for various marketplaces and services so that you can get your target profit.
Example:
If you have a minimum price for a product of $10, but you need to worry about a 7% referral fee, SellerActive will make sure that product isn't priced below $10.75.
How does my business reputation affect repricing (Algorithmic Buy Box method)?
Pricing isn't the only thing that controls Buy Box ownership; changes in seller ranking and reputation will also impact Buy Box control. SellerActive monitors your performance on each marketplace and will reprice to regain or optimize Buy Box control when changes occur.
This means that if your reputation improves, SellerActive will be able to price your products higher and still control the Buy Box, giving you a better margin. On the other hand, if your reputation takes a hit, SellerActive might be able to maintain the Buy Box by lowering your price.