You will want to de-activate your Deliverr Shipping Profile before starting on your Marketplace Management journey
Whether you're new to Deliverr or if you are tenured with Deliverr and have been using them for a while, it is important to understand the world of Fulfillment Center Nodes on Walmart and how they can affect your workflow with Marketplace Management.
If you plan on using Deliverr and Marketplace Management together, our suggestion is that you let Marketplace Management handle all order control to Deliverr. This includes removing the Deliverr Node from your Walmart account as well as disconnecting the direct connection between Walmart and your Deliverr account. Ensure you have Marketplace Management directly connected to Walmart plus set to "Gather Orders" via the Walmart integrations page, and you have an active integration between Deliverr and Marketplace Management.
This will lead to the smoothest flow of order communication between the applications and prevent any orders from being duplicated or missed.
Are there any downsides to removing the Fulfillment Center Node from Walmart directly?
Removing the Fulfillment Node from Walmart will remove all previous orders that were placed for Deliverr from your Walmart dashboard. Unfortunately, there doesn't seem to be a way around this end result at this time. In the future, we do hope to allow for orders to import through the Node to Marketplace Management and we can push those orders to Deliverr.
We suggest reviewing all outstanding orders from your Walmart account and ensuring they are within Deliverr before removing the node.
Will removing the Fulfillment Center Node on Walmart prevent my orders from being fulfilled by Deliverr?
Not at all! As long as the prioritization of your Fulfillment Centers within Marketplace Management has Deliverr as priority number 1, we will route your orders to Deliverr for fulfillment. You do have the option to omit certain marketplaces from being fulfilled with Deliverr stock if you wish.
If you disconnect the direct connection with Deliverr they will still be able to mark your account for 2-day shipping and assign the Fast tag to your Walmart listings.
Can I leave a direct connection between Deliverr and my Walmart account within my Deliverr integration options?
Having your Deliverr account directly linked to Walmart will break the Marketplace Management integration with your Deliverr account. We highly suggest having Marketplace Management import all orders through our platform and move them to Deliverr on your behalf. We advise removing the direct connection with Walmart.
This allows for minimal confusion and allows for orders not to be skipped. In certain situations, we may suggest leaving the direct connection established but only as a short-term solution. In most situations, we suggest removing the direct Walmart connection from Deliverr's end (this will not remove 2-day shipping options or other Deliverr benefits from reaching your Walmart account).
How do I remove a Deliver Fulfillment Center Node from Walmart?
Open your Walmart account
Click Settings in the upper right-hand corner. There should be an icon that looks like a cog.
Click Seller Fulfillment from the dropdown menu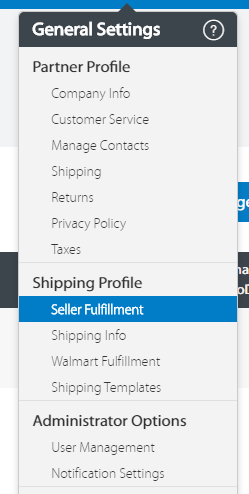 You should see at least one Fulfillment Center on this page but most customers might have 2 or more. Deliverr should be one of these options under the FC Type "Walmart Fulfillment Partner".
Click the Edit button on the far right column. It should be marked with a pencil icon.
This will bring up a new page with Deliverr highlighted. Uncheck the Deliverr option and click "Submit"
You will receive a confirmation and the status of the Deliverr Fulfillment Center Node should be "Disabled". This will not remove Marketplace Management's connection with Deliverr and Marketplace Management will still handle all orders for Deliverr-assigned inventory.