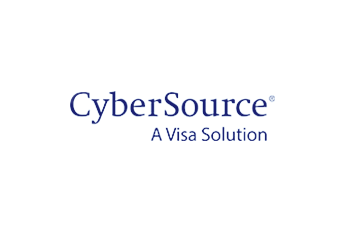 Partner type
Integration
Category
Payment Solutions
Related Solutions
Storefront
Documentation
Visit Site
CyberSource
Visa's CyberSource platform encompasses a complete portfolio of online and in-person services that simplify and automate payment operations. Customers use CyberSource and Authorize.net to process payments and streamline fraud management.
Accept card and alternate payments across all sales channels—mobile, web, point-of-sale, and call center—domestically and across the world using just one connection. The CyberSource gateway connects to approximately 100 acquirers and processors in over 190 countries and territories so you can process digital payments anytime, anywhere, in multiple currencies. Services may vary by country and by acquiring bank.
Cross-Channel Payments
Accept payments across mobile, web, point-of-sale, and call center channels
Facilitate cross-channel purchases and back-end integrations
Enable a common view of customer activity across channels
How To Add CyberSource to Your Cart.com Online Store:
1. Click here to create an account with CyberSource
2. Simply sign into your online store and then navigate to Settings > Payments > Payment Gateways > Add. From there you will see the supported gateway.
If you need further help, just contact the Cart.com support team and we'll walk you through it.
Setup notes:
Login ID Field: The merchant ID that CyberSource issues goes here.
Password Field: Leave Blank
Config string: SOAP API transaction key goes here. Make sure you have CYBERSOURCEKEY= before the api transaction key. To obtain the SOAP API transaction key browse to

www.cybersource.com

and login to the business center. Then go to Account Management, then to transaction security keys and choose the option for SOAP API.