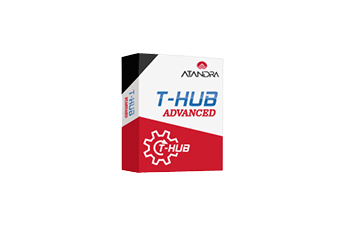 Partner type
Integration
Category
Fulfillment
Order Management
Related Solutions
Storefront
Documentation
Visit Site
T-HUB Integration
T-HUB is used by thousands of merchants to streamline eCommerce, reduce order-processing costs, accelerate order deliveries, and simplify business accounting.
Streamline order management between your Cart.com online store and QuickBooks Point of Sale. T-HUB order manager for Cart.com provides a simple interface to download Cart.com orders into QuickBooks Point of Sale. T-HUB integrates Cart.com orders with shipping software from FedEx, UPS or USPS (using Endicia or ).
How does T-HUB integrate Cart.com and QuickBooks?
Easy download of Cart.com orders into QuickBooks Point of Sale
T-HUB can connect directly to your Cart.com store to download customers and orders from Cart.com and post to QuickBooks Point of Sale. Simple, 1-click operation to download new orders or schedule T-HUB to check for new orders automatically every few minutes.
Cart.com Store shipping integration with UPS, FedEx and USPS
T-HUB can transfer shipping information from Cart.com to shipping software such as UPS WorldShip, FedEx Ship Manager or Endicia DAZzle for USPS. You can even ship using the Shipping Manager module integrated within QuickBooks Point of Sale. Print packing list and shipping label without re-keying any data.
Once shipping labels are printed, T-HUB will automatically update order shipping status and tracking number to your Cart.com online store. Your Cart.com store will then email the tracking number to the customer. You do not need to update one order at a time on Cart.com.
Update Inventory Stock from QuickBooks to Cart.com
T-HUB integrates your QuickBooks Point of Sale inventory with Cart.com. T-HUB will update any changes in price and/or quantity information from QuickBooks Point of Sale to website automatically.
Why should I use T-HUB?
Do you have an ecommerce store?
Do you use QuickBooks?
Do you find yourself spending hours of time doing double data entry in many systems just to process and ship your orders?
Is your inventory on website and QuickBooks out of sync?
If the answer is YES to any of the above then you ought to spend a few minutes of your time and see how T-HUB can dramatically streamline your order fulfilment and save time to focus on growing your business.