Offer all major payment options with one easy checkout solution.
With PayPal, you can provide your customers many payment types in one seamless checkout experience. Whether your business is online, in-store, or on-the-go, PayPal helps you connect with customers and expand the reach of your business.
PayPal Payments

Major credit and debit cards

Country-specific payment methods

Turn browsers into buyers with Pay Later.
There's no additional cost to your business.
PayPal Pay Later options include Pay in 4 and Pay Monthly and allow customers to pay over time while you get paid up front — at no additional cost to your business. And since 81% of consumers decide which payment method to use before they get to checkout, adding dynamic Pay Later messaging can help you increase conversions, boost average order values (AOV), and encourage customers to buy more — and more often.
Pay in 4
4 interest-free payments over 6 weeks on purchases up to $1,500.
Pay Monthly
6, 12, or 24 monthly installments on purchases up to $10,000.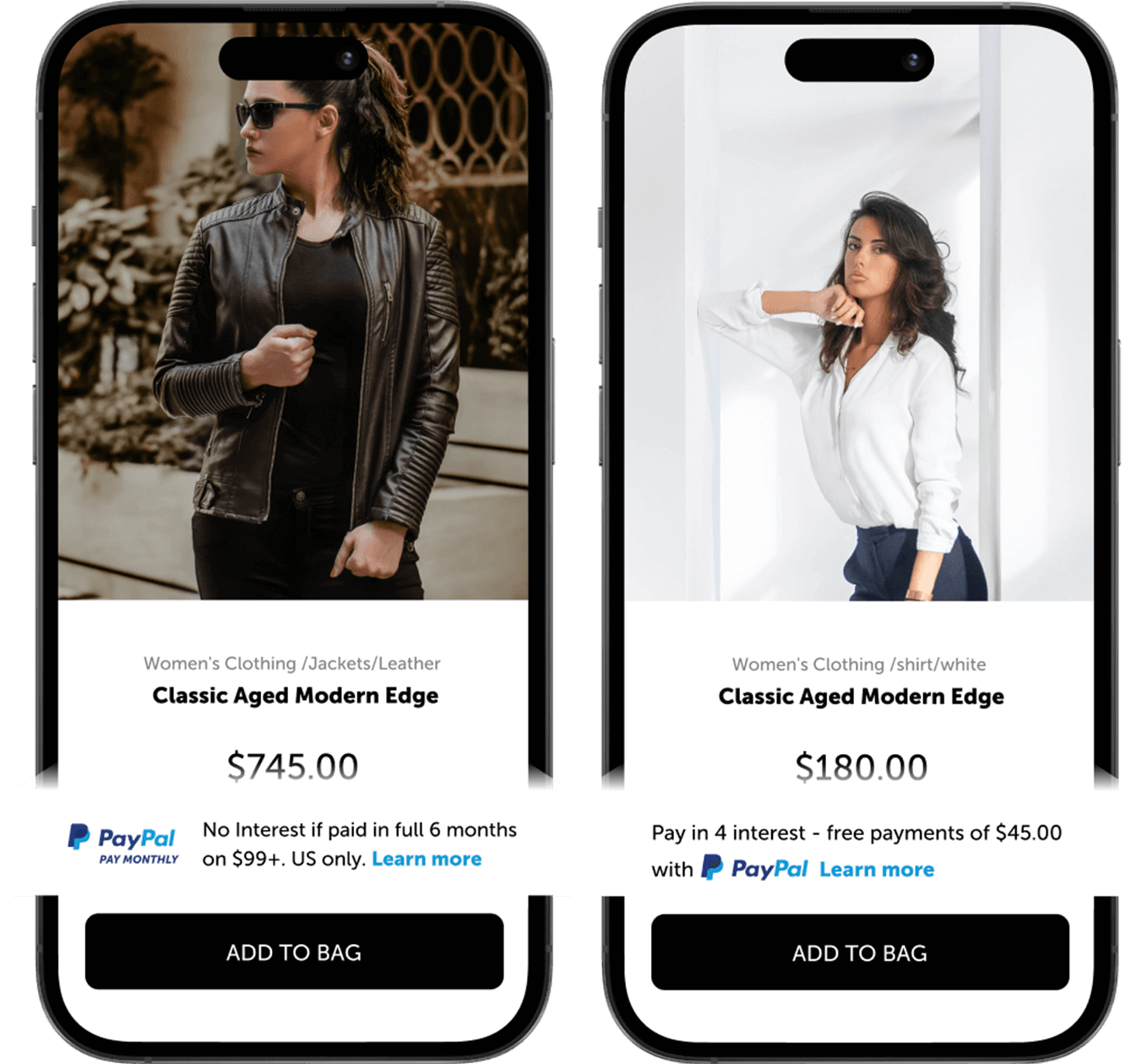 What Pay Later can mean for your bottom line.
64%
more likely to purchase—
consumers say they are more likely to make a purchase with a retailer that offers interest-free payment options.


84%
of buy now,
pay later (BNPL) users decide to use a BNPL solution prior to checkout.
56%
increase in average order value (AOV)—
businesses with pay-over-time messaging on their site saw a 56% increase in overall PayPal AOV.
80%
of buy now,
pay later (BNPL) users agree that seeing a BNPL message while browsing gives them the ability to spend more.


Let them Venmo
Venmo is already a part of PayPal Checkout—at no additional cost. Gain appeal to Venmo customers who are active spenders8 with more spending power. And help bring more visibility to your business with a payment method customers can easily share.
70M+ users prefer to pay with Venmo
Popular with Millennials and Gen Z shoppers
Venmo can increase the repeat of purchases by 19%
PayPal is one of the world's most preferred, trusted, and familiar brands
200+ markets around the globe.
200+ different currencies.
49%
of users say they've abandoned a purchase because PayPal wasn't an option.
More reasons it pays to PayPal.

Instant access to funds
Access card payments, send money, or make a payment from your bank account. You're credited immediately while the payment is processing. Funds settle instantly into your PayPal business account.

Fraud detection
Save time and money by letting PayPal help you handle the risk of fraudulent transactions with our fraud, chargeback, and Seller Protection* capabilities (on eligible transactions). Our AI technology works hard to monitor all of your transactions—so you can focus on what matters most.

*Available on eligible purchases. Limits apply.

Global compliance
PayPal payment solutions help you meet your global compliance standards, such as PCI and PSD2, bringing international markets within reach for your business. Our platform has built-in compliance with two-factor authentication provided by cards (3D Secure). We include automatic updates as security protocols change.
Activate PayPal on your store today.
Be sure to activate the latest PayPal features by following these simple steps.


Step 1
Create an account with PayPal
Call 1 (855) 787-6112 to speak to a dedicated account representative meant for those with AmeriCommerce online stores.
Step 2
Enable Cart Payments by PayPal
Navigate to Settings > Payments & Taxes in your Cart.com Online Store admin. From there, you can activate Cart Payments powered by PayPal.
Step 3
Enable PayPal Checkout + Pay in 4
Navigate to Tools > Apps & Add Ons > PayPal Checkout in your Cart.com Online Store admin. From there, you can sign in to PayPal and enable the integration into your online store.
Add the value of PayPal to your business.
Simple, transparent pricing
Domestic fees per transaction**
| | |
| --- | --- |
| Online Credit and Debit Cards (without Chargeback Protection) | 2.59% + $0.49 |
| Online Credit and Debit Cards (with Chargeback Protection) | 2.99% + $0.49 |
| PayPal Payments | 3.49% + $0.49 |
| In-person Credit and Debit Card Payments with PayPal Zettle | 2.29% + $0.09 |
| In-person PayPal and Venmo QR code Payments Above $10 | 1.90% + $0.10 |
**US domestic fees; fees vary by country and are subject to change.