Attribute filters and faceted search
With product attributes, you can filter and sort through your product catalog with ease. This gives your visitors a simple and intuitive way to find the exact product they are looking for and increase their shopping experience. Each product attribute can be customized with different pricing, shipping, and order rules.
Compare products against each other
The Cart.com product comparison tool increase your website's usability, conversion rate and customer satisfaction by allowing visitors to see side-by-side comparisons of your merchandise.
Build your own groups, kits & boxes
Help your customers find a collection of products that group together or depend on one another. For example, sell a furniture set together that is also made up of individual products.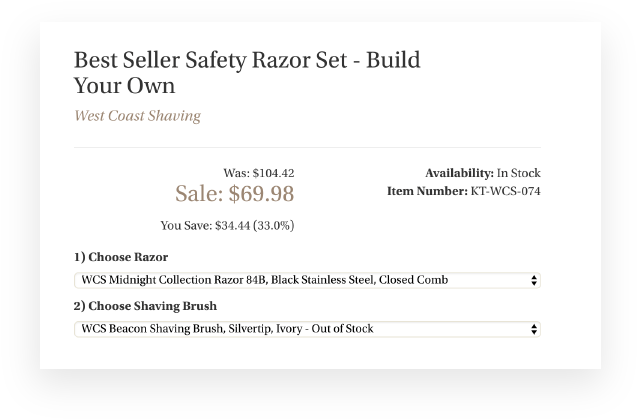 Unlimited product options & variants
With Cart Storefront, products can have as many options as you need so that things like size, color, type, are easy to select and each can have their own SKU, photo, weight, and price adjustments.
Products with personalization & file upload
Do you sell a product that needs customer information such as text for engraving or a file for printing? No problem. All products can include file upload and text boxes that are attached to the product and order for viewing during order fulfillment.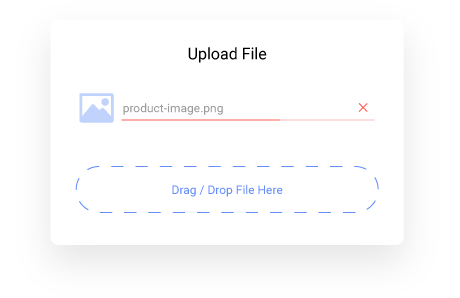 Digital products, subscriptions & software
Whether it's a monthly subscription, e-books, mp3, software licenses or other digital downloads—all are easily managed and sold through your Cart.com storefront.
Product reviews & Q&A
Reviews
Shoppers trust the feedback of customers- it's become standard practice to the shopper journey. With Cart Storefront, you can have a simple review for up to 5 stars and a comment, or you can create a multidimensional unique to the information you want to capture.
Q&A widget
No matter what you sell, your customers are always going to have questions. Storefront owners can add a Q&A widget to any page on their store that allows customers to ask questions and receive answers from the store owner, admin users or other shoppers.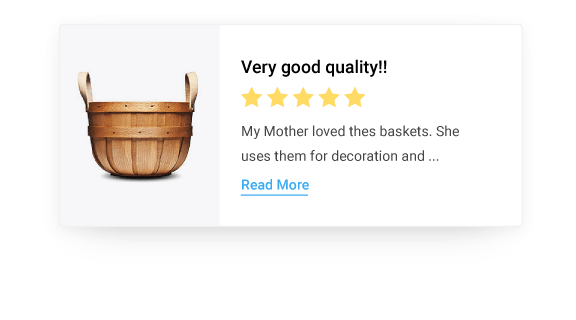 Best sellers & recommended items
Easily transform your store into a persuasive sales tool that up-sells and suggests products to your shoppers. Give customers suggestions for their next item, similar items, popular items and more. Recommended items can include quantity boxes, add to cart buttons, or buy now links for a smooth shopping experience.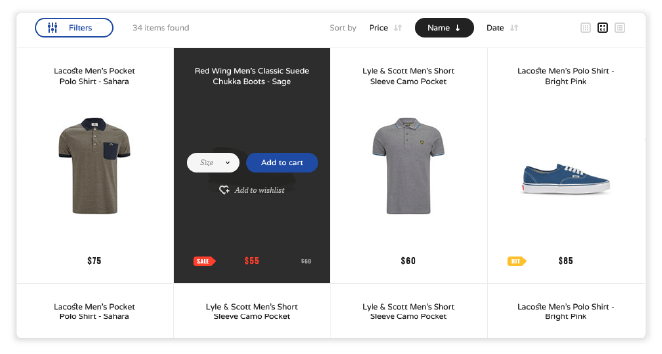 Protected by the Google Cloud Platform
PCI Compliant, DDOS Protection, and a team of security professionals guarding every transaction and visitor to ensure your online store is secure and protected.
Cart.com is PCI Certified and relies upon a sophisticated server environment. We use separate servers for SQL and Web services so each can be optimized to their highest performance. With Google Cloud Platform, each online store is protected to the utmost degree.
Working with Google Cloud Platform, Cart.com is able to offer the world's leading DDOS mitigation services to ensure up-time in the event of a DDOS attack. This protection is automatically implemented for every online store with no upgrades, added fees, or architecting required.