How to categorize a large number of listings at once.
If your products are created and established correctly within Marketplace Management, we will attempt to gather a publishing category for your listing automatically. If we cannot gather the category or if you do not have a valid Product attached to your Products, you will need to manually add the categories to your listings.
Amazon, eBay, and Walmart require a category to be assigned to your listings. If you do not assign a category then your listing will be marked "Incomplete" and you cannot continue the process.
You can categorize your products two ways: Through the SKU window after selecting an individual SKU (one by one) or from within the Listings Workspace (in bulk). This workflow will show you how to assign the categories in bulk.
How to assign sales channel categories in bulk
After your products have been imported from your integrated sales channels, we will create a listing for that channel locally in our system. In this example, we have imported our product from Amazon and we want to publish it to eBay and Walmart.
To assign categories in bulk you will need to follow this method. There is no way to bulk-update categories with a flat file (.xlsx, .txt, etc.) at this time.
1. After staging our listing for eBay and Walmart, we can see that the category was not gathered for this set within the Listings Workspace
2. Select the items that do not have categories (in this case eBay and Walmart) and click the bulk update option. This will highlight the option to categorize your products.
3. From this list you can select the categories that you want and it will assign to all of the items you have selected
You cannot select more than one category for a given listing on a single marketplace.
If the category options are grey then they cannot be selected. You must select the options that are in blue font.
4. Apply your categories and you will now see what required fields are needed for that specific category. If your listings are still marked as "Incomplete" then it could be because the category requires additional fields that need to be filled out. You can fill out all missing fields through the SKU Window again (which are highlighted by a red icon) or you can update those fields via the Product Import process. Once the missing product information has been successfully added, you can then attempt to publish your items again.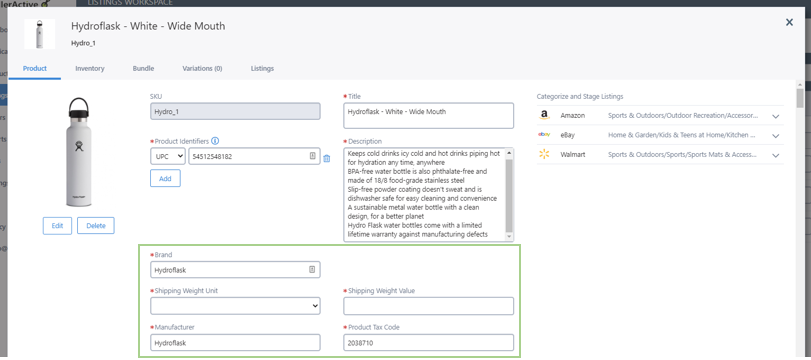 FAQ's
Can I upload a flat file with categories to Marketplace Management?
At this time Marketplace Management does not allow you to upload files to impact the accepted categories from the different sales channels. You will need to manually select them from within the user interface.
Can I assign new categories to items that have already been categorized?
You can override the categories that are within our system after they have already been categorized. These new category selections will not impact the marketplace unless you explicitly Publish the listings through the Listings Workspace or the SKU Window (under Listings).
Can I select as many listings as I want when I am trying to categorize them?
You can select as many items as you want but we do suggest filtering down your items beforehand. Our Listings Workspace shows 100 listings at a time and if you try to categorize thousands of items at once it might be harder to troubleshoot errors or issues prior to publishing.
Is there an easy way to isolate specific items prior to categorizing them in bulk?
Some users might have very large inventories and they want to make sure only specific items are categorized with a specific category. Some of these items might have different SKUs, different titles, or any other unique properties. The best option is to add Tags to your Products to allow for proper filtering prior to the categorization effort.
For more information on how to Tag your products, please reference this article.
I don't see the category I want to select within this list. What should I do?
Marketplace Management is always looking to improve our category trees however we cannot control how often the sales channel will update their available options. We advise submitting a request to Marketplace Management support and we can submit a request to have the category added with a future release.
For immediate resolution, we do advise adapting your choice to a different, already visible, category.
Why do I not see any category options for the other Amazon sites, eBay Motors, Shopify, etc.?
At this time Marketplace Management can list to AmazonUS, eBay, and Walmart through our publishing process in the user interface. We do plan on adding more integrations in the future but at this time if you can't categorize to that sales channel, you might need a different process.
We do allow you to list to AmazonCA, AmazonUK, etc. through a flat-file process. For more information on that workflow, please reference this article.