Understanding why you can't select certain strategies as fallback strategies.
When building your repricing strategies within Marketplace Management, you may see an area called "Profit Protection" within the strategy settings. These settings will ensure that your item is successfully repricing in the instance that your primary strategy does not have any valid competition (i.e. an Amazon repricing strategy that is pointed at the BuyBox yet the BuyBox is not available). The scenarios may vary, but we do advise enabling either a Preferred Price or Fallback Strategy whenever possible.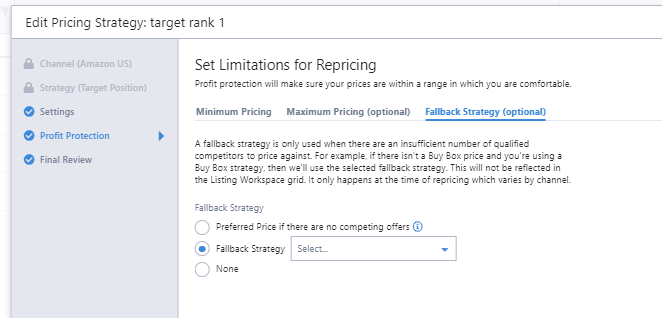 When assigning your Fallback Strategy you may notice that some of your strategies are not available or cannot be selected. This is because not all pricing strategies can be fallback strategies. If you select the drop-down menu and no options are available, you will need to create a new strategy that applies or edit one of your existing strategy settings.
If you would like to use a Fallback strategy, we recommend you set up a Target Position based pricing strategy for that sales channel.
Strategies that will never be available as a Fallback Strategy
Velocity strategies
Mirror Pricing strategies
The above strategies are not driven by market data and cannot be associated with a strategy that reprices using competitor data.
Sales channels not named Amazon (US/CA/MX and European Amazon channels), eBay, and Walmart will only have the above strategies available.
Specific Sales Channel limitations
Amazon

You cannot have an algorithmic Buy Box assigned as a Fallback Strategy to another algorithmic Buy Box strategy.
You cannot assign a Target Position option if it is already assigned as a Fallback Strategy for another primary pricing strategy

eBay

Due to our limited repricing options for eBay, we cannot assign any Fallback Strategies at this time.
Walmart


Due to our limited repricing options for Walmart, we cannot assign any Fallback Strategies at this time.