Unfortunately, not all inventory updates from Marketplace Management will update the marketplace. The reasons may vary. More often than not the listing is missing vital information such as the UPC or there is something wrong with the structure of the listing. The best way to confirm that there is not an issue with your eBay catalog is by attempting to edit the listings in bulk on eBay directly.
You can reference some important FAQs at the end of these instructions
Follow these steps to check for eBay item-level errors on eBay directly:
Once corrected, our Support Team can push a price or quantity sync to all of your listings.
1. While within your eBay seller dashboard, select "Sell" in the upper right-hand corner
2. The next visible page should default to your "active listings". Right underneath the "Results" you should see an Edit button. You can choose to edit all of the listings at once or you can edit certain sets (in batches of 1000).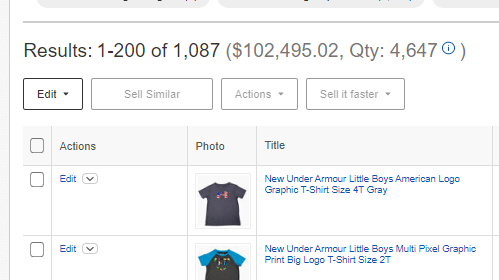 You can choose to look at certain items or you can break down large subsets of your catalog. You would need to select more than one listing to generate the remaining steps of this walk-through. If you just select only one listing, you will not see the following pages.
3. Select and filter by the notifications at the top of the page. This will filter the results in your listings and allow you to make edits in bulk.
The red errors are immediate errors that should be corrected as soon as possible. Any items that have a red error might not be receiving quantity or price updates from Marketplace Management.
If you run into "Missing Type" as an error, you will see these options under "Item Specifics" (Edit Fields -> Item Specifics)


4. You can choose to edit the values one by one or in bulk. Depending on how many errors you have, the display of this page might vary. Sometimes the display will show the error on the right-hand side
OR the display will show several columns available to you:

If you select more than one SKU, you can choose to edit them one by one in a filtered list or in bulk based on the category:
You can also edit through the Item Specific column itself and the required fields will be highlighted with a red asterisk:
5. When the edits are made, you will be given the option to " Save and Close" for most of the options you have changed. Once the edits have been made, select " Submit Changes" in the bottom left-hand corner.
6. Once you believe the item level errors are fixed, you can perform a manual price or quantity update within Marketplace Management to send a new feed to eBay. You can also reach out to
our Support Team
and they can submit a request on your behalf for all of your items.
FAQS:
Will editing the listing on eBay negatively impact my connection with Marketplace Management?
When we refer to "editing" we mean for very specific reasons such as adding a missing UPC or adding an important Return policy. We don't intend on you making drastic edits and changes on the marketplace directly. The reason we promote the tool in our steps below is that correcting the issue at the source is sometimes easier than completely relisting an item or deleting the item entirely.
If the UPC is missing on eBay from the beginning then it most likely isn't in Marketplace Management. If you add the UPC to eBay directly then it will not automatically import into Marketplace Management however if the UPC does exist on eBay then we will still be able to interact with your listing on the marketplace.
Can I add the missing information, such as UPC, to Marketplace Management and republish that to eBay?
This is a viable option as you can use Marketplace Management to re-publish the listing with the missing information. You can make the edits manually one by one or through our import process and then publish the listing to eBay. A publish attempt will potentially erase the information that is on eBay but not in our system.
Opting to make the edits on the marketplace directly will lead to no missed information on eBay and a much easier "one-time" adjustment result.
How often should I be checking for these errors on eBay?
This should not be a common occurrence but we do suggest performing an account-wide check when first integrating your eBay sales channel with Marketplace Management. Normally when you make changes to product-rich data on eBay, as long as you have an "out-of-stock" setting active within your eBay account then the information will not be removed.
If you run into multiple price or quantity update issues then it might be worth performing an entire review of your catalog on eBay's end. We highly suggest not deleting or removing items in bulk from Marketplace Management in an attempt to solve the problem. If you need further assistance or help then please reach out to us for further instruction.