With the changing environment and shipping needs, many of our customers choose to use 3PLs such as Deliverr to help handle their orders. As a Fulfillment Center that is tightly connected with Walmart, you might have been asked to establish the Deliverr integration directly within your Walmart account. In order for Marketplace Management to handle your orders and shipping needs, this must be turned off from within your Walmart account.
If orders are not importing from Walmart ->Marketplace Management (regardless of if they are Deliverr or not) then this could be the reason.
Another reason could be that your Walmart settings are preventing Acknowledged orders from being imported. For more information, please review this article.
Here are the instructions on how to remove this Fulfillment Center from Walmart:
Open your Walmart Seller account (seller.walmart.com)
Click Settings in the upper right-hand corner. There should be an icon that looks like a cog in front of it.
Click Fulfillment Center Setup from the dropdown menu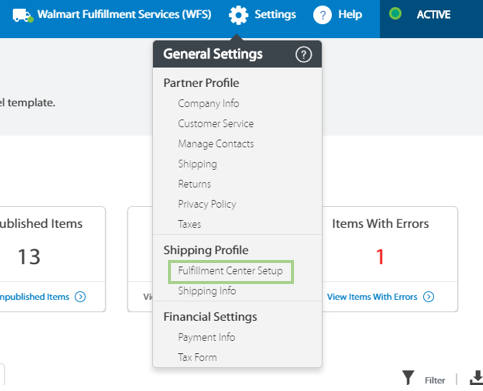 4. You should see a set of Shipping Profiles on this page. Deliverr should be one of these options under the FC Type "Walmart Fulfillment Partner".
5. There is a pencil icon on that row. Click the pencil to open the editing options
6. A new window should appear and you should see Deliverr checked. Un-check the option before moving forward:
7. Save your changes.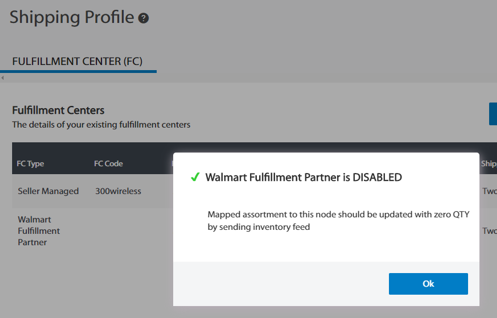 8. The Shipping profile will not be entirely removed from this page but you should now see a "Disabled" icon next to the profile.
If you have performed these steps and you are still not seeing orders import from Walmart -> Marketplace Management, please reach out to us at support@selleractive.com for further assistance.