A quick look at the program's guidelines and required steps.
What is Amazon Renewed?
Amazon Renewed is a program designed to help you sell like-new products to Amazon customers, worldwide. This includes those products that have been repaired or refurbished and tested to confirm they work like new.
This is a great opportunity to expand your business on Amazon!
Boost recovery rate for returned products and generate more revenue
Appeal to a larger, more value-conscious customer base
Increase product exposure through complimentary Amazon Renewed marketing drivers
The refurbishment process typically includes a diagnostic test, replacement of defective parts, adequate cleaning and inspection, and repackaging, when necessary.
Products from the following categories may be considered for sale through Amazon Renewed:
Phones
Cameras
Headphones
Kitchen Appliances
Power Tools
Personal Computers
Tablets
Television
Video Game Consoles
For a complete list of products allowed for sale through Amazon Renewed, please refer to their program policies here.
How do I participate in this program?
To begin selling through Amazon Renewed, you must:
Register as a seller on Amazon, if you have not done so, already.
Meet certain qualifications to sell on Amazon Renewed.
Once you've been certified to sell through Amazon Renewed, you can then begin adding listings to the program, through Amazon's site.

Sellers accepted into the Amazon Renewed program may not list on all Amazon Renewed ASINs.
General Amazon gating guidelines may apply — contact Amazon Seller Support to request approval for specific brands.
Prior to creating a new "Certified Refurbished" ASIN, check to be sure that ASIN is not already live on Amazon because you may not create a new one if an existing Certified Refurbished ASIN exists there, for the same model.
Follow Amazon's ASIN Creation Guidelines, specific to Certified Refurbished ASINs.
Any variations on the ASINs can only be set up through your Amazon contact, and should not be done without consultation with the Amazon Renewed team.
Certified Refurbished ASINs must be listed with "New" condition type, which will enable your offers to win the Buy Box.
For complete Amazon Renewed details and guidelines, click here.
How does this work with Marketplace Management?
It's important to create a New version of the product in Amazon's Seller Central first (if it doesn't already exist) so that when creating the Renewed listing you can link the New and Renewed ASINs together.
To accomplish this, simply click on Catalog > Add Products and select 'I'm adding a certified refurbished product'.

Lastly, copy the New ASIN that exists on Amazon into the field Amazon offers on this page. If the Renewed ASIN already exists on Amazon you will be notified on the next screen and can choose to add your offer details to this listing.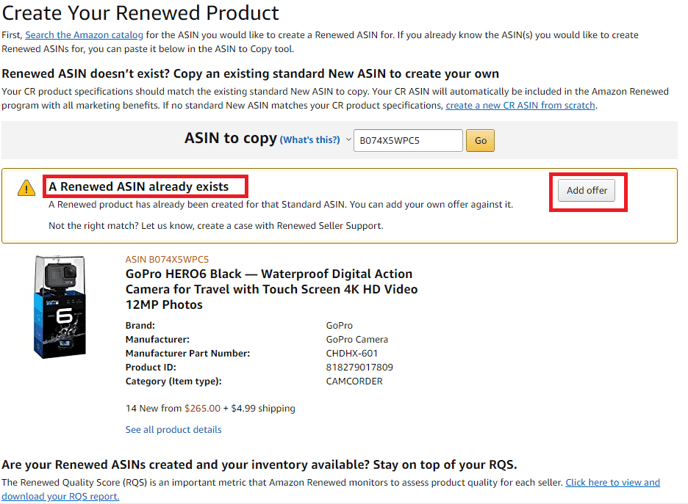 If it does not exist, Amazon will allow you to create a Refurbished ASIN with your offer details.