Here is what an invoice created within Quickbooks Online looks like.
The information you see below is what will be submitted, and these fields cannot be customized at this time.
For more information on how to integrate, please reference this guide:
Invoice: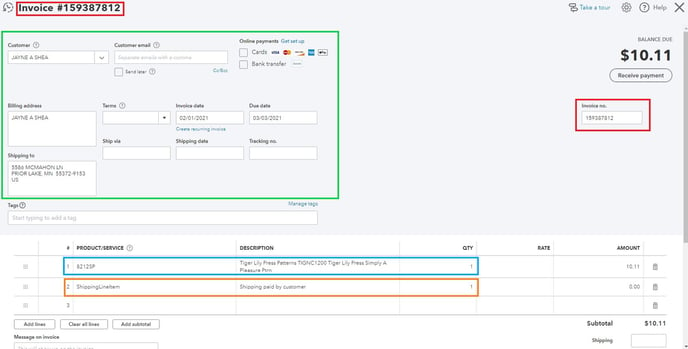 RED - Marketplace Management Order ID
GREEN - Customer information as imported from the Sales channel
BLUE - Ordered SKU and quantity
ORANGE - Shipping (if ShippingLineItem is added within your QuickBooks account as a Service)
Frequently asked questions:
How can I allow for Shipping prices to be added from Marketplace Management to QuickBooks?
In order to have shipping prices reach QuickBooks, you will need to create a new product/service within your QuickBooks account. This is very easy to do, and you will want to name the service specifically "ShippingLineItem".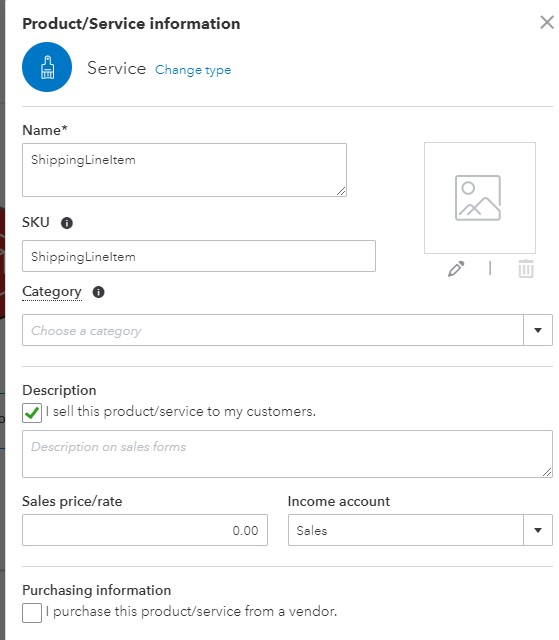 How can I have the state tax appear on my orders?
Marketplace Management does not actually send taxes from our platform, but QuickBooks itself calculates the tax. The address that we send with the order details will calculate the tax IF you have your tax option established within QuickBooks. On the left hand side of the QuickBooks screen, you should be able to see a "Tax" area.
If you just opened your QuickBooks account for the first time, the Tax information may not be filled out at all. We do advise your Tax rules be established prior to turning on the integration.
We can re-send your orders to QuickBooks if needed, just reach out to our Support Team to prompt that new request.
Where can I see the Site Order ID for each specific sales channel?
At this time Marketplace Management does not send the Site Order ID to QuickBooks Online. You can reference Marketplace Management or a direct export from the sales channel for the specific Site Order ID.