Marketplace Management Integrations
What information is submitted to Quickbooks?
Marketplace Management is a one-way integration with QuickBooks for both Desktop and Online versions. We only send information to QuickBooks and we do not import information of any kind (Listings, statuses, etc.)
Accepted Versions:
Pro
Pro Plus
Enterprise, Premier
Premier Plus
All plans must be Silver or above (Inventory Management is not available under Silver)
Here is some additional information on what we send to each QuickBooks integration: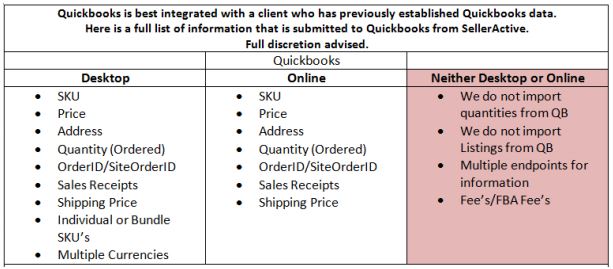 Tax information is generated via the Tax settings within QuickBooks and is only available for QuickBooks Online. Your Tax rules must be established before the order is sent over in order for the Tax to be generated. The address received will trigger your specific Tax rules on a per-order basis.