Price protection for Amazon and eBay
With Marketplace Management you do have the ability to assign MAP pricing protection on your listings.
These are account-wide settings that are enabled within the integration settings themselves.
These settings are not active by default and if these settings are not turned on then the MAP price protection will not
work.
The Price within Marketplace Management must be higher than your saved MAP Price
Integration settings
You can enable these settings within your Amazon and/or eBay integration tiles.
You must have MAP Price and Retail Price assigned to your listings in order for this pricing protection to be in place. This is assigned through a flat file upload within the Listings Workspace.
Amazon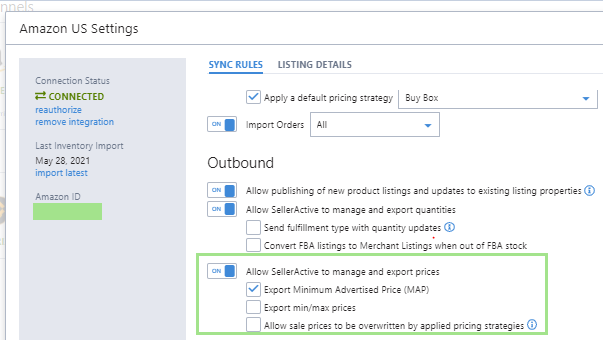 eBay

With these settings ON and your MAP price assigned within Marketplace Management, we will help protect your prices on Amazon and eBay. This feature is not available for Walmart.com or any of our other sales channels.
We suggest setting your Minimum Price to the MAP price for a non-Amazon or non-eBay sales channel. We will not reprice below your static or dynamic Minimum Price so setting that value to your same MAP price will protect your listings.