When working with your catalog within Marketplace Management you might notice a button called "Stage Listings" within your Products workspace. This is a key part of the publishing process and if you do not have a listing in Marketplace Management for the Sales channel, we cannot publish your item successfully.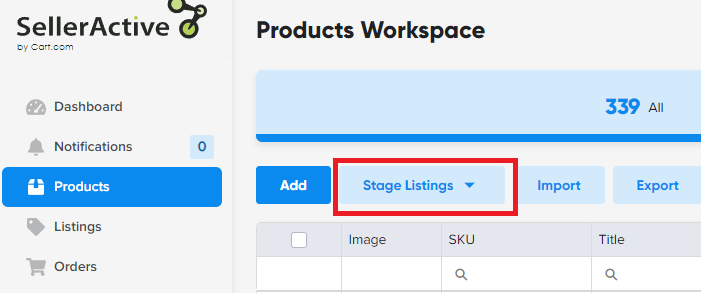 For example, if you want to publish your catalog from Amazon -> Walmart, you would see the Product created automatically within Marketplace Management after integrating your Amazon store. You would go into your Products workspace and then stage that SKU for Walmart.
This example highlights one SKU but you can perform this option in bulk.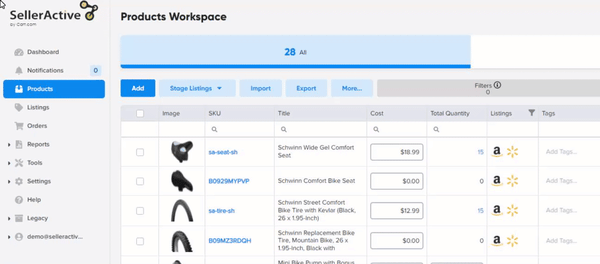 If you already have that product on the sales channel then Marketplace Management will automatically create a listing for you and assign it to the same Product. As long as the SKUs are the same across your sales channels, they will be automatically linked.
You can tell which sales channels you have existing listings on via the "Listings" column in the Product Workspace or within the Listings Workspace itself under the "Channel column.
Products Workspace:

Listings Workspace:
Each Sales Channel has slightly different requirements for publishing but Marketplace Management consolidates the information you need and helps expedite the publishing process. Staging your listings is an important part of that process.
Frequently Asked Questions:
How does this process work with my existing catalog?
If you already have an established catalog on your sales channels, once you integrate them with Marketplace Management the work will be done for you. The sales channel will send us a full inventory report and we will create those Products and Listings for you automatically.
For example, if you have one SKU on Amazon and eBay then (after integration) we will create 1 Product and 2 Listings (one for Amazon and one for eBay). If you wanted to publish to Walmart, you can then stage for Walmart (1 Product and then 3 Listings).
Do I need to stage my items to publish to Amazon, eBay, and Walmart?
Yes. In order to publish your SKUs to Amazon, eBay, or Walmart then you would need to have a listing for that specific sales channel. In order to create a listing, the Product/SKU must be staged.
Does staging the listing also categorize the listing for publishing?
That will depend on your catalog within Marketplace Management. In specific instances, you would need to still categorize your listings after the Product has been staged. If you have a Product ID attached to your Product then Marketplace Management will attempt to gather this information for you automatically. If a Product ID does not exist on the SKU then we would leave the category blank.
Ultimately the staging and categorization processes are two separate processes.