Multichannel Management now available in the Cart.com Console
Customers can now register and access a 14-day free trial of Multichannel Management (formerly SellerActive) from within the Cart.com Brand Console.
About Multichannel Management
Cart Multichannel Management (MCM) is a powerful suite of tools that allows ecommerce brands to list and update their products in the world's largest marketplaces from a single location. Easily build a centralized product catalog, bulk upload new listings to multiple channels and quickly resolve marketplace-specific issues in one place.
Plus, Cart MCM's automated repricing technology helps you set pricing rules that dynamically and continuously update, allowing you to capture the Buy Box on average 72% of the time and help you get ahead of the competition. In fact, most brands see an average of 22% revenue growth in the first 60 days.
‍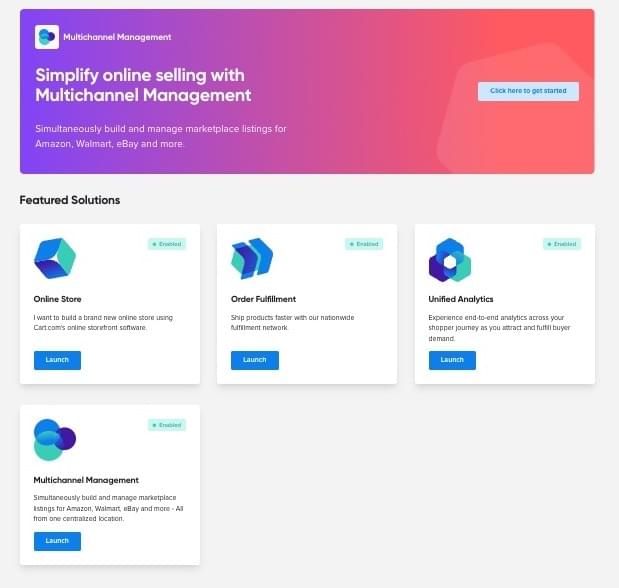 ‍
Demand Forecasting launch for Unified Analytics & Fulfillment
Introducing the Demand Forecasting Algorithm
Accurate demand forecasting is a must-solve problem for brands looking to improve their margins. Too much inventory on the shelves? Storage costs eat away at the bottom line. Not enough products in stock? Lost sales pile up. Enter: Demand Forecasting.
Cart's Demand Forecasting algorithm ingests brands' storefront and marketing data to create daily, weekly and monthly sales forecasts for each SKU. Equipped with these forecasts, brands can dynamically adjust marketing spend and inventory orders to optimize their margins.
How do brands engage with Demand Forecasting? The model drives two new features in the application: Optimize Inventory in Unified Analytics and Intelligent Stock Warnings in Order Fulfillment. More information on each below:
1. Optimize Inventory in Unified Analytics
The Optimize Inventory dashboard in Unified Analytics gives brands the valuable combination of inventory and demand data needed to optimize their inventory decisions.
‍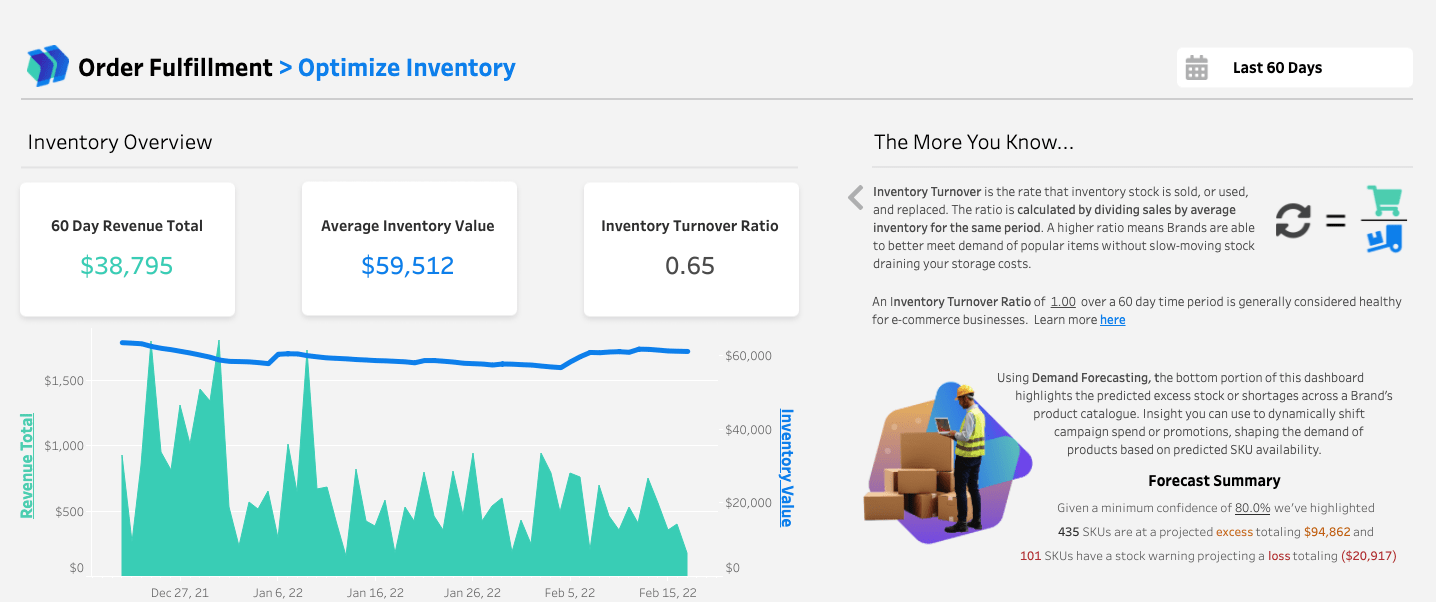 ‍
Section 1 highlights a quick synopsis of trending sales, the value of inventory on hand, and their inventory turnover ratio. This gives brands a general sense of their inventory turnover health over the previous 60 days.
‍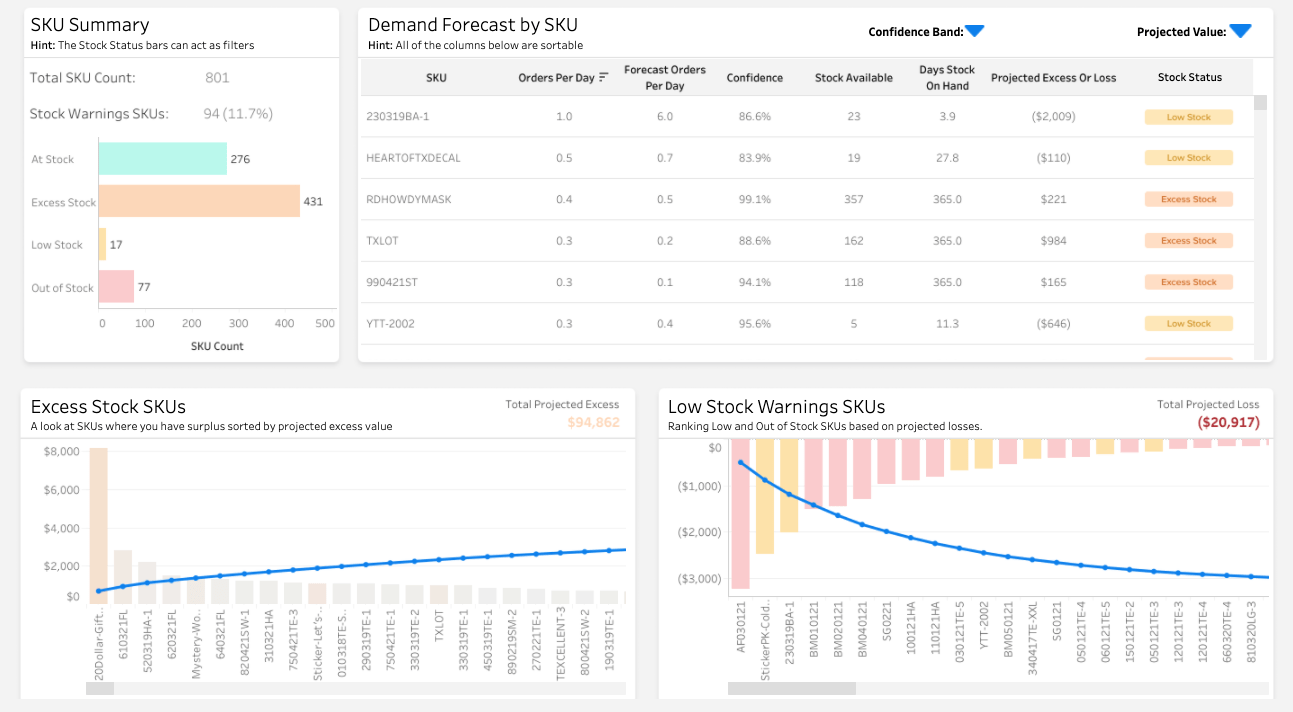 ‍
Section 2 of the Optimize Inventory dashboard combines demand forecasts with inventory data to identify stock statuses across all SKUs, and even calculates the projected value of excess or loss from under/overstocked items. With these excess and low stock distributions, brands can quickly identify the highest priority SKUs to adjust marketing spend and inventory orders, thus improving their margin and return on ad spend (ROAS).
2. Intelligent Stock Warnings in Order Fulfillment
Cart's Demand Forecasting algorithm also drives the new Intelligent Stock Warnings feature in the Order Fulfillment module. Brands can now anticipate inventory imbalances with stock warnings driven by the Demand Forecasting algorithm and act on them by creating inbounds all within the Order Fulfillment module.
‍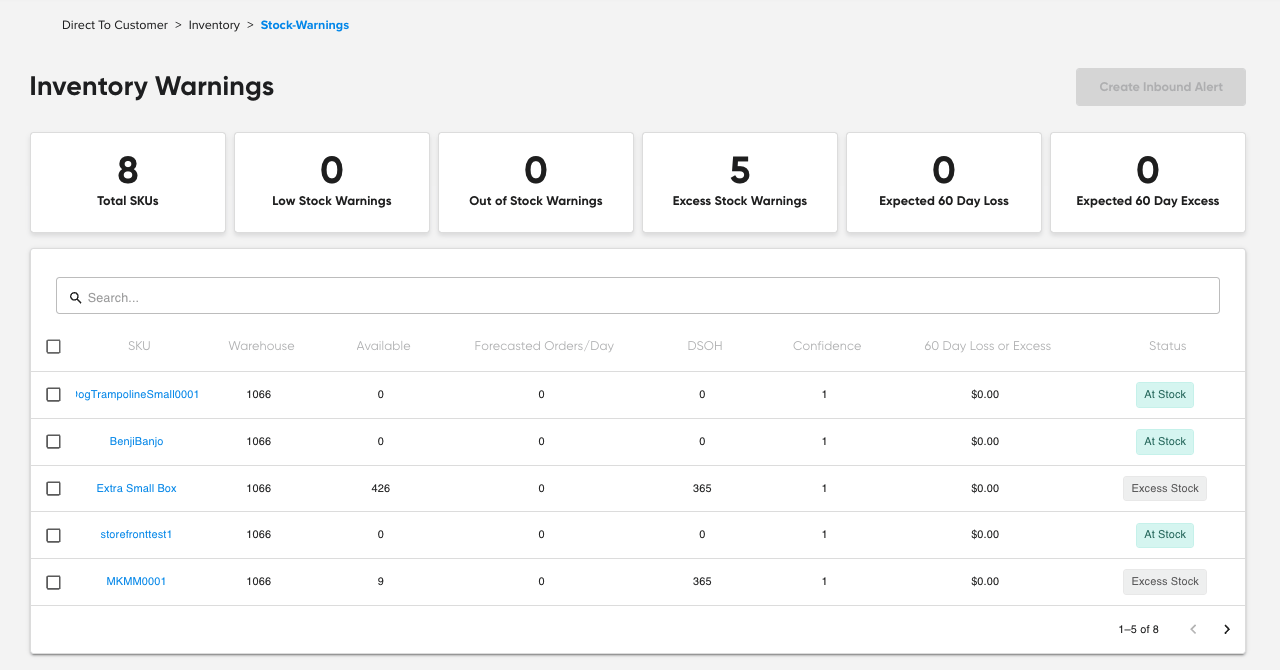 ‍
New chat functionality in Fulfillment
With the new Order Commentary system in Fulfillment, brands can communicate directly with the warehouse for surprise and delight initiatives, special care requests, status inquiries and more to nail the customer experience.
From the order details page, brands can send a message directly to the warehouse and view responses right in the Fulfillment timeline.
When a customer sends a message, the fulfillment center is notified immediately via Slack. The message includes a secure link that allows the fulfillment center to respond without signing in, ultimately delivering a quick and seamless experience for our brands.
‍