With over 1 trillion dollars in ecommerce revenue generated in 2022, savvy businesses know planning for this year's Q4 can be a crucial opportunity to maximize revenue growth. So, if you need help fine tuning your plan of action (with tips for any derailment!) read on--because this Q4 is all about upward momentum.
Step 1: Set clear goals and objectives
When setting goals for Q4 and holiday shopping it's crucial to take a step back and look at your business. What has changed? Was there a hot product last year that you no longer have? Did you give up too much margin with your discounting? Do you have a shiny new influencer program?
Objectives such as maximizing revenue or profit, liquidating older products, or simply keeping items in stock need to be defined before building your forecast. From there we look at YoY Comps and trends to build expectations.
Step 2: Lay out your plan and build a calendar
How are you going to exceed last year's forecast?
First, start with your promotional strategy. The days of The Cyber Five (Thanksgiving - Cyber Monday) are long gone. Instead, brands now must focus on a broader "fall strategy" as demand continues to arrive sooner and sooner each year. So, you'll build a primary plan and a secondary plan with extensions if you need to course correct.
Step 3: Plan out all content and assets needed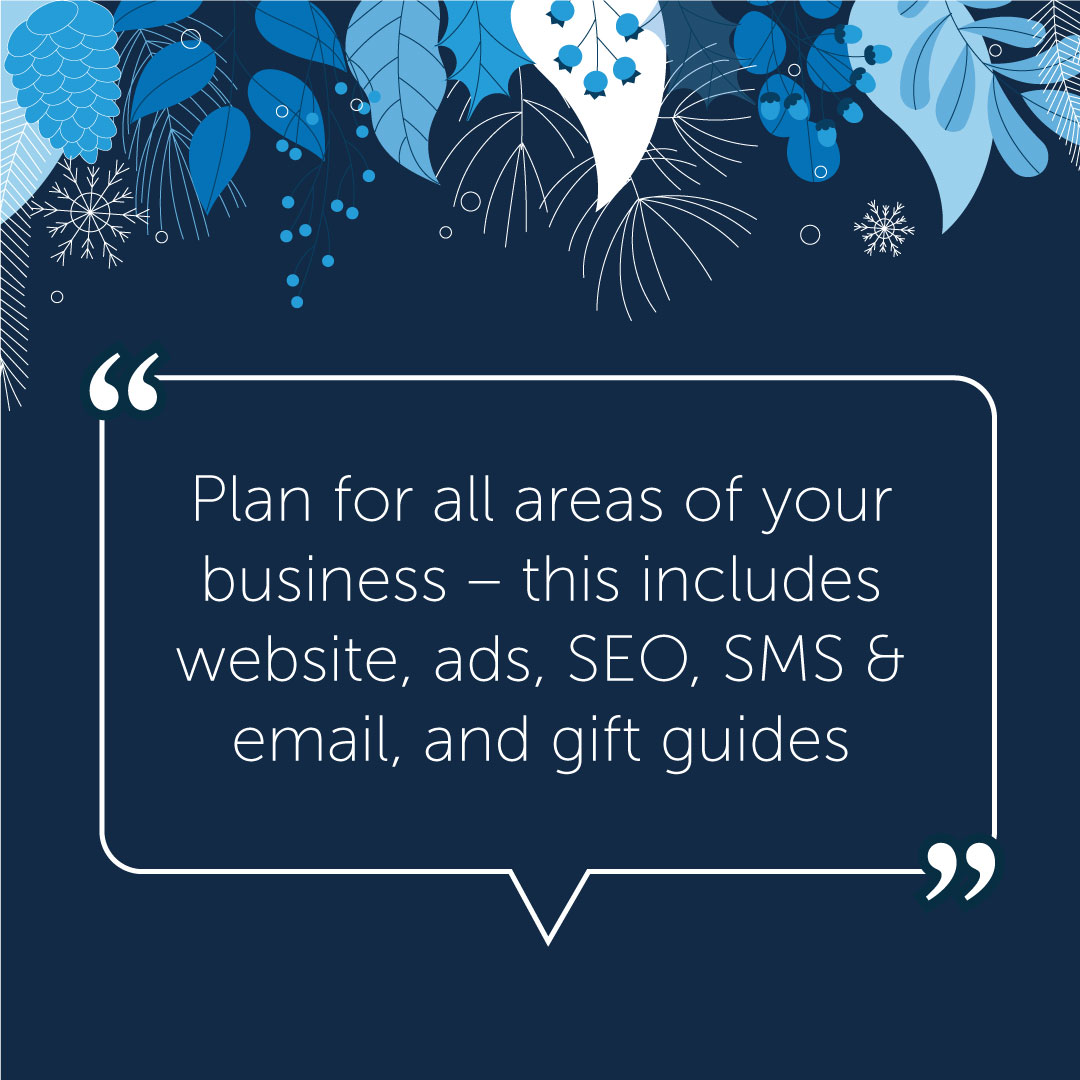 For your website, that includes sitewide & homepage offer banners and landing pages.
For ads and community content, you're looking at paid ads and organic content.
For SEO, you're going to want to make a "Deals Page" -- a holiday page optimized to match holiday keyword search intent.
For SMS and email, implement inactive user re-engagement strategies. Everyone loves a good deal, even if your consumer ignored your email for months. Remember, sometimes too much thought goes into creative for a sale. Customers just want the discount. Your goal is to get them to the website and make their journey simple.
SMS is growing rapidly. If you experience high spam rates on email, SMS offers a great alternative to connect with your consumers.
Can't forget the ever-popular Gift Guides! Often this is to support Email, homepage content, or SEO strategies. The reality is when gift giving, you have a purchaser who is not the end consumer and is not fully familiar with the brand. This strategy helps simplify the shopping experience and puts the right product in the consumer's hand, hopefully helping to minimize returns and exchanges.
And finally, for affiliate & UGC (Influencers, Whitelisting, etc), you've got to prep content. Affiliates can often repurpose your existing content. Influencers, on the other hand, create their own. We've found great success utilizing influencers to tap into incremental audiences, run their content in our ad accounts, and run whitelisted ads through their account handles to increase consumer trust.
Step 4: Plan your inventory strategy
You build revenue targets in your forecast, but this is where you need to start looking at product categories, sell-through rates, and how you can replenish inventory.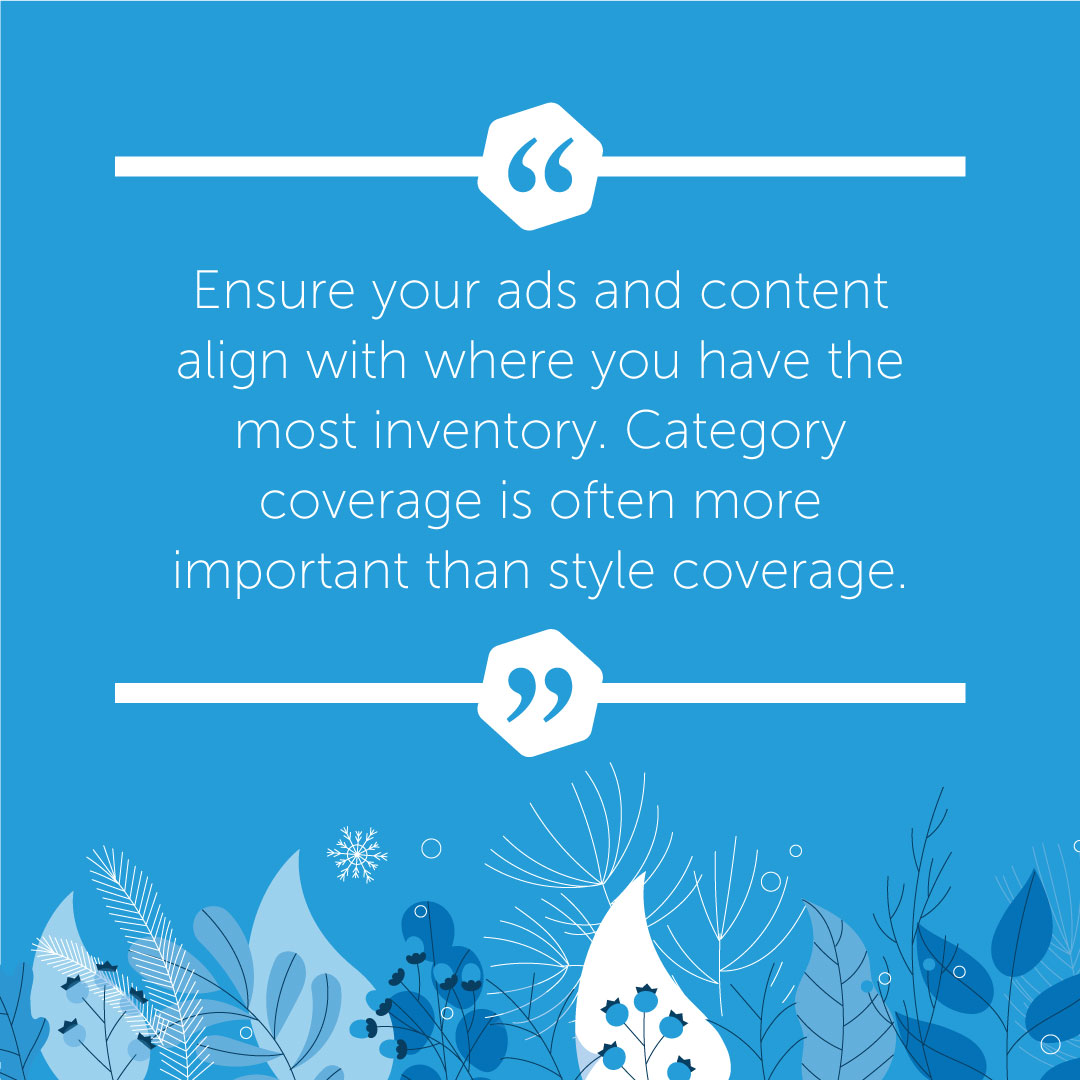 Another way to move product is by offering a "Gift with Purchase." It's a great upfront value add to increase site conversion rates and differentiates your brand from your competition.
If you're able to effectively tell your audience why your product is worth buying, your marketing campaign is heading in the right direction—toward a sale.
Step 5: Set a "code freeze" deadline for your website
Code Freeze is the date you officially decide when to stop making functional changes to your website, when the risk of your site going down out-weighs the small improvements you intend to make. You can still make content pages, add new products, or make tweaks within your CMS, but you should no longer be doing things like installing apps from your ecommerce platform.
This deadline will also apply to any hosting or server related upgrades you have planned to help support the additional site traffic this year.
Step 6: Plan your operational strategy
Set your fulfillment cutoff dates. During Q4, everything ties back to your calendar. All major shipping carriers (UPS, Fedex, USPS), have cutoff dates where they logistically can no longer guarantee your orders arrive before Christmas. This means you need to plan a buffer to ensure the order is captured, but also fulfilled on time.
Plan ahead for employee coverage. We all expect ourselves and our employees to take some time off for the holidays. Building a calendar and understanding if someone is accessible in case of a business emergency is crucial to make sure someone has eyes on your business at all times.
Don't forget the small things like order inserts, shipping labels, and boxes. An ecommerce director typically isn't thinking about these things. "It's a warehouse problem," they'll say. But because most businesses run on net sales, not gross, if a product doesn't ship you can't realize the revenue or profit.

We'll help you get holiday prepared
Planning a proper holiday season isn't easy. Working with your team to ensure all facets have been discussed will help you maximize your growth this season. Luckily, planning, documentation, and execution are where Cart.com can help take your business to the next level.