Cart.com was among a select group of companies to sponsor, host and attend the Unlock 2023 event. Held on June 13th in LA's Hubble Studios, the event gathered over 350 attendees eager to learn from renowned tech and e-commerce experts and founders. Distilled from the panel discussions, here are our top 10 takeaways on successful company building, smart marketing strategies, and storytelling.
Data-driven decision-making
With millions of e-commerce stores and marketplaces, brand leaders have to grapple with increasing competition, rising costs of customer acquisition, and a complex macro environment - from manufacturing to logistics.
Despite these challenges, some brands are still thriving. At Unlock 2023, we sat down with the executives behind some of the most iconic e-commerce brands to learn about the key strategies that have led to their success. This panel featured Jason Panzer, President of Hexclad; David Ghiyam, President of MaryRuth's; Steven Borelli, CEO of Cuts; Josh Friedman, President of Dr. Squatch; and Montre Moore, Co-founder of AMP Beauty. Here are some takeaways.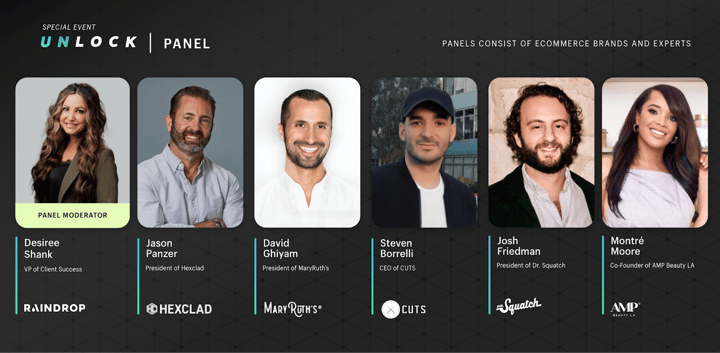 1. Craft a top-quality product and understand your supply chain: Jason shared how inventory issues nearly led to bankruptcy. The key takeaway: live in your numbers and understand the capital investment needed to manufacture and deliver a top quality product. An aesthetic brand alone won't cut it - the real value lies in the product itself. Consistent quality is key to standing out in a saturated market and ensuring your brand has substance behind its style.
2. Know your financials: Cuts Clothing CEO's suggestion of making small, consistent progress every day underlines the importance of a growth mindset. Josh Friedman, from Dr Squatch also highlighted the importance of understanding your unit economics, emphasizing that awareness and control of financial metrics are crucial for profitable growth.
3. Understand your customers: According to Mary Ruth Vitamins and AmpBeauty, success lies in understanding your customers' needs and catering to them effectively. Building a connection with your customer base and mini-communities can result in a loyal customer base that can significantly impact a brand's success.
4. Learn from mistakes: Each entrepreneur shared their biggest failures, demonstrating that mistakes are a rite of passage in the journey to success. From inventory issues, misunderstanding of financial metrics, to underestimating regulatory complexities, these lessons underline the need to fully understand all aspects of running a business.
These conversations echoed something that we often hear from our customers and partners - the brands managing to succeed are those constantly refining and improving the way they run their business. This includes optimizing their supply chains and expanding into new channels to better address their customers' needs. A robust analytics platform that connects dots across your business like Cart.com Unified Analytics can help brands better understand their inventory, customers and marketing impact.
Optimize your mix with multi-touch attribution and platform expertise
Neil Patel, who has spearheaded successful marketing campaigns for industry giants like Airbnb, Google, and Zappos, explained how executives need to think about paid media.
5. Understand your top performing platforms: Brands need to make calculated decisions when choosing what advertising channels they want to prioritize. Brands often over-invest in trendy platforms like TikTok on the notion of a cheaper cost per acquisition (CPA), however it can't match Facebook's audience size. With the right attribution data, managing campaigns on Google and Meta successfully can yield powerful, long term results.
6. Take a holistic view of funnel: A full-funnel approach coupled with a long-term view allows brands to strategically optimize campaigns. Based on Neil's experience, this approach can reduce the cost per acquisition (CPA) by over 10% and boost overall performance. However, while paid media and brand growth are essential, what distinguishes a good executive from a great one is their ability to look beyond the "paid media box". A deep understanding of the fundamentals that drive their business including a superior customer experiences, ultimately driving sustained growth.
7. Engage agencies thoughtfully based on business needs: Research shows that nearly 40% of brands are likely to ditch their agency within six months. To find the right agency, marketing executives need to be very clear on the specific needs of their business and its scale ambition. Smaller businesses may benefit from contractors or niche agencies, while larger companies will most certainly need to look for an agency partner that can offer comprehensive approach to paid media, paid search, SEO, affiliate and lifecycle marketing.
Having an analytics platform with multi-touch attribution will help you uncover your best performing channels and optimize towards them. If you don't have the expertise in-house to keep up with the fast pace of technology (from IOS 15 to most recently GA4, and AI), bring on a growth marketing partner like Cart.com who has deep understanding of each platform and will lean into each platform's algorithms to maximize results. Don't skimp on post-purchase engagement to drive LTV. Our Customer Engagement team can augment your CSRs to help keep customers coming back.
Take a cinematic approach to your video content
Jacques Spitzer, CEO of Raindrop and an Emmy award-winning, advertising and marketing, shared the top three things that enable brands to create engaging content that not only goes viral, but that also grows top line revenue.
8. Striking visuals break through the noise: As Spitzer explains, our brains (and specifically the reticular Activating System, RAS) naturally filter out the mundane and focus on the remarkable. In the crowded world of advertising, marketers need to prioritize striking visuals that break through this filter.
9. Ads need to captivate audiences quickly without sound: Addressing the reality that 85% of people watch ads without sound, Spitzer challenged the common belief about viewers having short attention spans. Instead, he argued, they have short consideration spans. This distinction emphasizes the need for ads to quickly engage viewers and maintain their interest.
10. Focus on 10 seconds at a time: Spitzer introduced a new paradigm for content creation: the Digital ARC - Attention, Connection, and Relevance. First, garner attention - every ten seconds of your content should keep viewers interested for the next ten. Second, establish connection over context. Lastly, ensure the content is relevant to the intended audience.
Content doesn't have to be expensive to be effective, however it does need to engage viewers to break through the noise. Enlisting an agency who builds content day in and day out can go a long way to maximize your working dollars. Cart.com's Growth Marketing team has built creative for hundreds of brands like Guess and can help if you're unsure of what will resonate with your audience.
Pictures credit to Dan Fleyshman.