As shoppers continue to spread their holiday spending over longer periods of time, being prepared for the holidays is even more important.
Many ecommerce businesses generate most of their sales for the year during Q4, so optimizing during these specific months is critical. Luckily, we have a few things for you to consider for the upcoming holiday season: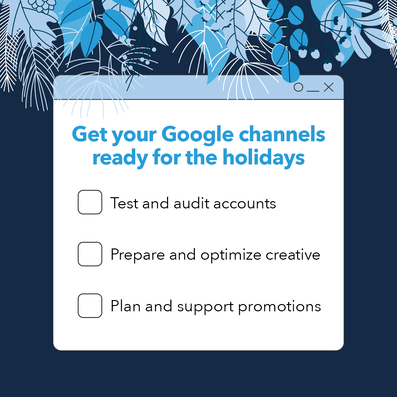 High competition makes account optimization (including ad strength & keyword quality scores) even more essential to win in auctions and provide a good customer experience.

Run tests in the months leading up to Q4 to determine the best possible bid strategies, keyword match types, using any betas from Google, etc. to set the best possible strategies.

Forecasting demand for different categories using tools like Google Performance Planner & Keyword Planner can help identify areas for expansion ahead of sales, and determine areas of focus for budgets, optimizations, etc. in planning for Q4 sales.

Performance Max was rolled out more broadly in Q3 of 2022, making this the second year for this campaign type. As more options are becoming available, and more overall Google platform spend is funneled to this ad type, it's important to consider all the changes needed here compared to Search & Shopping updates of years past. Last year, the campaign type was so new, there were fewer optimizations to be made. This year, Google is recommending seasonal asset swaps for images and videos. Audience signals will need to be updated, especially for accounts that were using similar audiences (phased out by Google on August 1st, 2023). New levers like brand exclusions can be applied to keep efficiency high on this campaign, or settings like New Customer Acquisition can target specific goals this holiday.
Google Ad placements below.
If you want a little extra help with getting prepped and ready for Q4, try using our checklist!
Cart's Holiday-Ready Checklist:
Complete all account testing by early October to allow time for optimizations & learnings to be implemented ahead of key dates in November.

Conduct full account audits & updates throughout the account ahead of key sales.

Create seasonal refreshes of ad copy & creative assets across Google campaign types, as available.

Optimize Performance Max according to the latest Google best practices, including refreshed creatives, audiences, and using updated & optimal campaign goals and settings.

Support key promotions with updated ad copy, including pinning specific assets to message promotions as needed while maintaining ad strength.

Be sure to have full promotional support & messaging, including performance max updates, ad extension updates, merchant promotions, budget & bid strategy adjustments and/or seasonality adjustments and setting rules to schedule all changes.
Save the below checklist to keep your holiday planning on track.