‍How Unified Analytics connects the dots along the shopper journey to decrease costs and increase profitability
Throughout my career, I've been lucky to go through ups and downs in the economy. I've seen companies expand in good times and restructure during bad ones. While expansion provides opportunities for businesses to try out different directions, restructuring is always about getting resources aligned along critical paths to stay afloat (or even thrive) in spite of economic downturn.
As Prof. Robert Kelley wrote in his book The Critical Path Manifesto:
"The critical path is the connection between what the customers want and what the company provides to them. The goal is to create the shortest, fastest, smartest, most effective, most profitable, best path to pleasing a large enough group of highly satisfied, highly profitable repeat customers who then help you bring in an increasing number of new profitable customers."
Simply put, the so-called "critical path" is all about increasing revenue and reducing costs. In practice, to stay on track of the critical path, companies need to measure the status quo, decide what's working vs. what's not, and then double down on the right, most revenue-driving strategies. However, as online businesses and growing brands evolve, it has become highly challenging – and even impossible – for companies to measure business performance and make decisions using traditional approaches.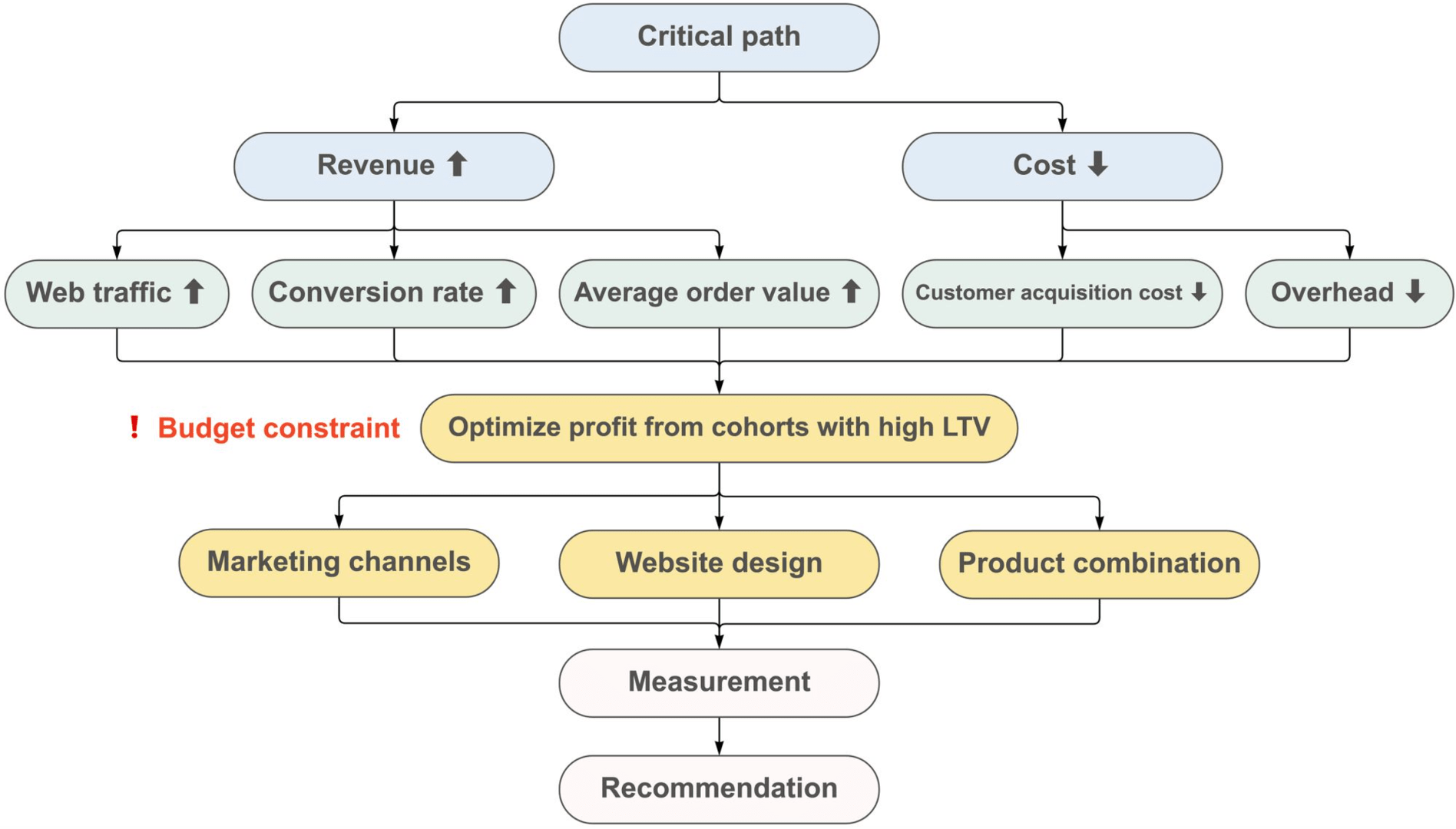 To that end, many business leaders have now realized that data science is a superpower to help them align with the critical path. As I mentioned in Connect the Dots in Data Strategy, companies dream of building a data system that serves as a digital twin of their business processes—allowing them to make data-driven, fully informed decisions about the present and the future of their business.

Among industries, ecommerce benefits the most from data science innovations. Why? Brands generate loads of various first-party data across marketing, sales, web and fulfillment. Those data empower brands and merchants to analyze their customers, discover who the most valuable ones are, and invest in them.
For example, when brands have an accurate customer lifetime value (CLV) forecast, they can focus resources like marketing dollars on the high lifetime value (LTV) cohorts and reduce investment in the other ones. Further, by digging into where the valuable cohorts come from, brands can increase ad spending on the marketing channels responsible for drawing those most-profitable customers in.
When brands know how their most valuable customers interact with their website and understand what they like or dislike in terms of product and shopping experience, brands can adjust their online store design accordingly.
As shoppers look for more and more personalized experiences, it's time for brands to up the ante.
With data, brands can segment customers and provide personalized product recommendations at scale. For example, ecommerce giants like Amazon, Walmart and The Home Depot are known to invest heavily in data strategy – and benefit greatly from it. However, traditionally, executing such a data strategy requires a large crew of experienced data talents and a wide variety of tools that are often beyond affordable for most brands. This has led to demand for creative and efficient solutions that growing brands can use to connect the dots along their shopper journey seamlessly and economically.
Founded by a group of ecommerce gurus, Cart.com deeply understands the potential and urgency for brands to guide business decisions based on data. With the variety and complexity of ecommerce data in mind, we built Unified Analytics to help brands answer the most important business questions and make data-driven decisions that can increase their profitability. Cart Unified Analytics helps them answer questions like:
Which customers are the most profitable?
What do those customers look like?
Where do they come from?
What and how do they like to buy?
‍
‍
With deep technical expertise, we designed Unified Analytics to be a fully turnkey solution that delivers value in as little as one month—no data science team required. We do the heavy lifting analytics work, so brands can focus on growth and creating value for their customers.
‍

‍
With brand growth in mind, Unified Analytics delivers superior value for brands, often for less than a tenth of the cost of alternative data science solutions.
‍

‍
Ready to get growing? Learn more about Unified Analytics below!
‍