Anyone with an internet connection and a phone or a computer can see that Amazon is king. Chances are, you and everyone you know uses Amazon. Be honest. You've got several items in your Amazon cart right now!
And you're not alone. Not by a long shot.
More than half of consumers say that if they had to choose only one destination to buy products, it would be Amazon. What's equally as fascinating is that 74% of consumers start their product searches on Amazon. Not to geek out right now, but another cool stat is that, in the U.S., 81% of adults between the ages of 18 and 34 are Amazon Prime members. Think about that. Millions of people in this country who have access to the "internet of everything" choose Amazon!
When brands sell products on Amazon, they literally have access to millions of shoppers. The trick is getting them to choose your brand over thousands of other sellers. This may sound like a tall order, but it doesn't have to be – not when you know how to win Amazon's coveted Buy Box.
What the heck is the Amazon Buy Box, anyway?

Imagine that Consumer Carl is all out of laundry detergent and in no mood to go to the store. But, those clothes aren't going to clean themselves, so Carl chooses Amazon for the no-hassle delivery of his detergent.
On the right side of the Amazon product page is a box that includes the price of the detergent, along with yellow and orange buttons that read, Add to Cart and Buy Now. This is what's known as the Amazon Buy Box, and not all sellers are eligible to win it. For those who haven't won the Buy Box, shoppers see a yellow button that reads See All Buying Options, instead.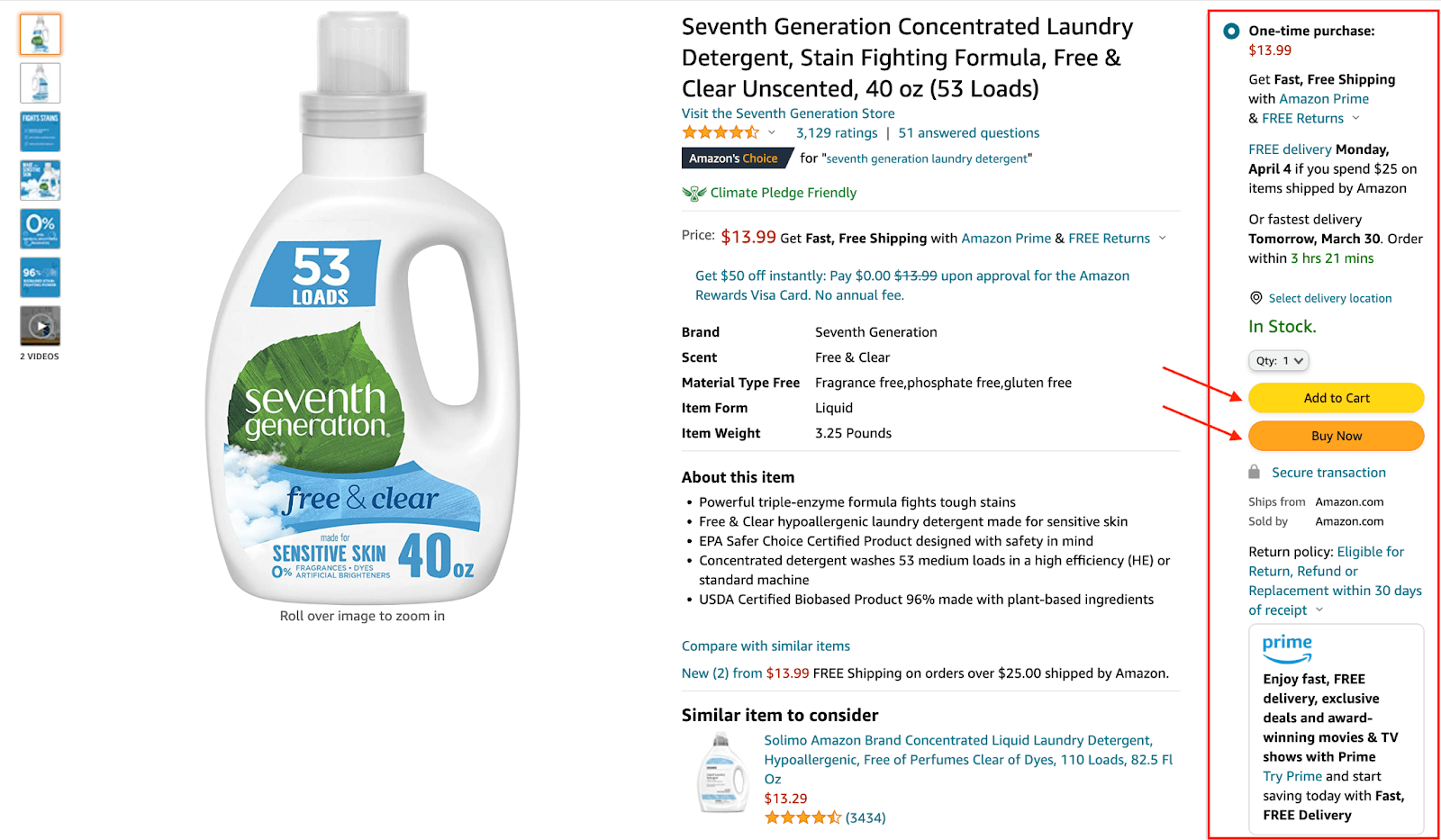 To compete for Carl's purchase, and millions of others, you'll have to compete for the Buy Box. But, digital consumers have shorter attention spans, lasting about eight seconds and decreasing 88% every year. So, they prefer to tap a button and go. That's why the Amazon Buy Box is so important. Brands need to capture a buyer's attention and their purchase within a matter of seconds and the Buy Box allows them to do that.
But, winning the Buy Box isn't up to brands alone. Using an algorithm, Amazon decides which vendor is the best fit based on a particular set of requirements. So, if you want to start selling more on Amazon, your first step is to become eligible for the Buy Box.
So, how do I become eligible to win the Buy Box?
Becoming Buy Box eligible means making friends with Amazon's algorithm. And make sure you understand Amazon seller account requirements. https://www.cart.com/blog/amazon-seller-account-requirementsSo, be on your Ps and Qs and meet these five eligibility requirements:
Sign up for a Professional Seller account (Pro-Merchant account in Europe)
Maintain an order defect rate < 1%
Maintain a pre-fulfillment cancel rate < 2.5%
Maintain a late shipment rate < 4%
Keep new and available products in stock
If you don't have a Professional Seller account, sign up for free ASAP and get on the road to qualifying for the Buy Box. If you already have a Professional Seller account and haven't done so, take a few minutes to see if you're Buy Box eligible. To do so, just:
Log into your Seller Central account
Click Manage Inventory, then Preferences
Select Buy Box Eligible, then click Save Changes at the bottom of the page
The Buy Box Eligible column will display the status for each of your ASINs.

If any of your products aren't Buy Box eligible, you've got some work to do starting with the above requirements. Once you've met them, the algorithm will analyze you and your competition to determine what share of the Buy Box you should get, if any. The Buy Box is only given to the strongest sellers, according to Amazon's criteria and its algorithm.
Having the lowest price is typically the biggest factor in winning the Buy Box, but not in all scenarios. Sellers should focus on acing these variables, too:
Inventory in FBA
Stellar feedback
On-time shipping
Fast response time to customer inquiries
Maintaining competitive pricing and up-to-date inventory
I'm eligible for the Buy Box! Now what?

Once you've met all the eligibility requirements and passed Amazon's vibe check, it's time to focus on winning the Buy Box. To help you do that, I've gathered our greatest tips and best practices. Things might get a little technical here, but push through. These tips are fast, easy and comprehensive.
1. Aim for the competitive landed price: The landed price is the total price of a product once it arrives at a buyer's door. It includes the listing, shipping and product prices, plus the shipping provider and distance, seller margins and manufacturer. To nail the landed price, aim to stay competitive but don't aim for the lowest price. If all the other variants are equal among sellers, a lower landed price will improve your Buy Box share and help when your other variables aren't performing well.
Sound complicated? It doesn't have to be. Many merchants automate their pricing and implement product feed management across Amazon and other marketplaces with repricing tools that optimize pricing, keep them competitive and maximize their chances of winning the Buy Box. And you can, too!
2. Get your Perfect Order Percentage (POP) score: Your POP score is an Amazon metric you can find inside of Seller Central, and it's crucial to winning the Buy Box. This score takes into account the amount of your orders accepted, processed and fulfilled without any problems, such as:
Late shipments
Cancellations
Negative feedback
Chargebacks
A-to-Z guarantee claims
Buyer-initiated messages
To produce your POP score, Amazon tallies your perfect orders from the last 90 days and then divides them by the number of orders you received. So, if you've had 375 perfect orders out of a total of 500, your POP score would be 75%. And that would be bad.
Amazon recommends that sellers never let their POP scores fall below 95%. If you have a low POP score, or a score lower than your competitors, you'll struggle to win the Buy Box. So, monitor your score daily to catch slips in your percentage and stay competitive. To do so, just:
Log into your Seller Central account
Click the Performance tab
Select Account Health
From there, you can view and download order-specific details and see which negative factors may be affecting your POP score. Merchants struggling to maintain a score of 95% or higher often implement a fulfillment infrastructure solution to manage inventory, warehouse orders and deliver nationwide … and on time. You can, too!
3. Minimize your shipping time: When deciding who wins the Buy Box, Amazon's algorithm favors those with shorter shipping times. The shipping time categories are:
0-2 days
3-7 days
8-13 days
14 or more days
When improving your shipping times, it's more effective to move to a faster category than to jump to a faster shipping time in the same category. Other shipping factors influencing the Buy Box are:
Late shipment rate
On-time delivery rates
Shipping cost
To help keep your shipping times running quickly and smoothly, engage a 3PL and fulfillment infrastructure solution that covers everything from picking, packing and shipping to nationwide order fulfillment and order management.

4. Minimize order defect rate: The order defect rate (ODR), a key metric found inside Seller Central, measures your ability to provide a good customer experience within a 60-day period. Sellers are required to maintain an ODR under 1%, as a rating above 1% may result in selling restrictions like the suspension of seller-fulfilled offers. Amazon calculates the order defect rate based on:
Negative feedback
A-to-Z guarantee claims
Chargebacks
Naturally, a high order defect rate will negatively affect your chances of winning the Buy Box, so keep an eye on this metric. To view your current ODR:
Log into Seller Central
Select the Performance tab
Click Account Health
In the Customer Service Performance section, click View Details
Select the Order Defect Rate tab
Scroll down and click the Download Report button
Cool story, but what about mobile?
Over 160 million people use Amazon's shopping app. But, how surprised are we really? Most of us live on the go and our phones have become lifelines to everything from keeping up with loved ones to ordering groceries. So, it's also not surprising that most Amazon users make Buy Box purchases on mobile versus desktop. This is important because on Amazon's mobile site and app, the Buy Box is directly under the product image. And since most mobile customers never scroll past this point and never see the options below, your chances of snagging that sale are pretty good!
Got any last words?
Whatever you do, don't try to beat the algorithm. Adopting an aggressive pricing strategy or artificially inflating your reviews may result in short-term gains but what you need is sustainable long-term growth. Instead, focus on qualifying for and winning the Amazon Buy Box.
If you want to supercharge your efforts, powerful ecomm tools like multichannel management (MCM) and affordable nationwide fulfillment solutions are the way to go. MCM simultaneously builds and manages marketplace listings for Amazon, Walmart, eBay and beyond. The right end-to-end fulfillment solution can manage inventory, warehouse your orders and deliver nationwide, just like the big guys. Tools like these work together for the greater good of your brand. They automate, optimize and streamline your business, plus help win the Buy Box so you can grow, grow, grow!
‍