For over a decade, I've launched, led and lived within hundreds of DTC and omnichannel businesses across many verticals (beauty, fashion, CPG, food & beverage, fitness, wellness, tech and healthcare) as their trusted go-to growth marketing expert. The last 12 months have been the most challenging for digital commerce marketers we've ever faced, customer acquisition costs (CAC) are skyrocketing—and today I'm sharing what growth marketers are doing to combat this.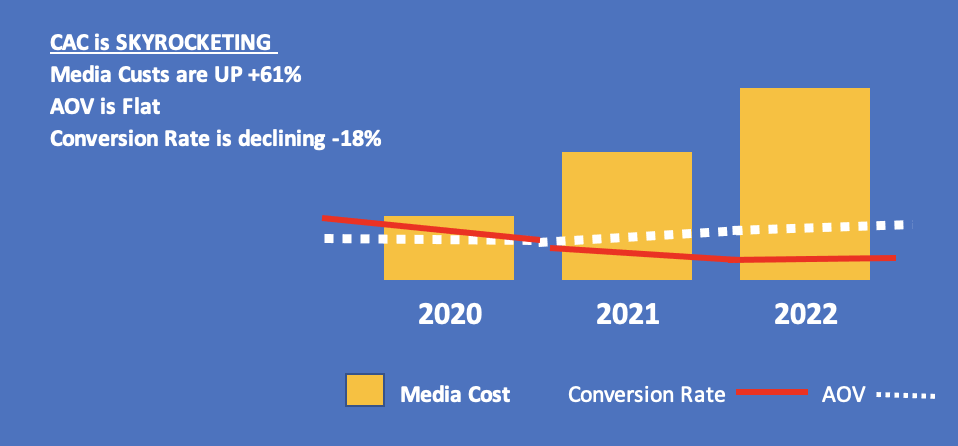 Key drivers of rising CAC:

Digital Ad spend in the USA continues to grow, digital media represents 66% of total ad spend (eMarketer). Couple that with the fact that most marketers focus their ad spend on the Triopoly of Google, Meta and Amazon, 65%+ share of Digital Ad revenue (eMarketer).
Media costs are rising, and in 2021 CPM prices soared 61% YoY (MTA Measurement firm Measured)
Conversion rates are declining, CVR -10% YoY with social commerce CVR-19%, (smart insights) and bounce rates are averaging 40% with 190 seconds average session time (crazy egg)
Average Order Values (AOV) are increasing YoY, and mobile realized a 37% increase YoY with a $125 AOV. This increase is due to multiple factors relating to a brand's assortment, bundling and promotional strategies (ex. BOGO, GWP) (statista). While this is good news, it doesn't offset the sharp increase of media costs and declines in conversion rates.
So, what are successful DTC brands focused on and how are they doing it? Spoiler Alert, GRIT is a prerequisite.
1. Diversification and innovation of media: Stepping outside the box of the triopoly of Google, Meta and Amazon

There are thousands of publishers and hundreds of programmatic platforms to select from—many of which the media math doesn't pencil to an acceptable CAC or ROAS positive. Over the last decade I've tested so many and wanted to share the unicorns in digital commerce; publishers with ample reach to help you acquire customers at scale, reduce CAC and/or achieve ROAS positive performance.
And yes, there are many more publishers and ad formats to test-learn-scale with.
2. Stock the pond with always-on, first-party list building
This is an efficient means to scale via offer walls, partnership marketing and in-platform lead generation forms. Success hinders on providing a relevant value exchange for prospects to relinquish their contact information (ex. name, email, ZIP, DOB). Many DTC growth marketers experience CAC/ROAS positive performance with a multichannel outreach strategy. Over the years I've tested many formats and publishers; these have delivered efficient scale.
Fluent: Consumer-focused, value driven offer walls with over 1M daily completed surveys
DojoMojo: Marketing platform that enables you to partner with thousands of brands to join or host sweepstakes, 270M emails acquired + SMS opt-ins
Meta (Facebook + Instagram): Native lead-ads in platform auto-fill known consumers' contact information and spans across multiple ad formats context card with form, video and carousel
"In the post-third-party cookie world, quality connected customer data will become one of the most important strategic assets that a business can own." -Deloitte Digital
3. Curate the customer journey with segmentation and meaningful engagement for visitors to your store
While you actively collect data and optimize the consumer experience. There's so much opportunity here and much of it is dependent on your tech stack—so I'm going to provide straightforward and simple solutions providers that are universal.
ClickTale: Visual in-page analytics, records information on scroll reach (mobile), mouse moves and clicks—and most importantly, page speed (the #1 conversion killer)
Iterable: Customer engagement platform that cuts across email, SMS, push, in-app and direct mail, and enables A/B testing
Postie: Capture and re-engage website visitors with direct mail retargeting
In closing, these are some of the top initiatives that growth marketers are actively leveraging to offset rising CAC and skyrocketing media costs from the Triopoly (Google, Meta and Amazon). Executing on these takes GRIT and with most companies, resources and know-how is challenging with the great resignation. We are happy to partner with you and navigate through this as an extension of your team.
‍