‍Matt Kerbel is an advisor to brands with 15+ years leading world-class brands including Lyft, Call of Duty, and MeUndies. Today, he sits on the Adweek Innovators Council, is a collegiate guest lecturer and executive mentor and a LinkedIn Top Voice in marketing and advertising.
I'm brand obsessed. Cart.com is brand obsessed.
So it makes perfect sense that we've linked up on a series talking about incredible brands making some incredibly unique, thoughtful, and mission-driven moves to win hearts and drive growth.
For brands to grow effectively—from up-and-coming rockstars to household names, and all in between—they must be able to creatively and efficiently attract new customers, convert more sales and simplify operations. The end-to-end magic that Cart.com brings to the equation covers all of this and more, helping ensure brands become best-in-class and remain top-of-mind.
Today, we're going to discuss four brands we all admire, who have been able to consistently grow in spite of everything that's been thrown their way over the past year or two—pandemic, bear market economy, bring it on! These companies continue to sustain cultural relevance, meet people where they're at, support their customers in various meaningful ways, expand their offerings, and build community.
No time like the present to learn from these legends, so let's jump in.
Since 2020, we've all done a lot of nesting. The time spent at home has ensured we've all questioned how we might optimize our home environments, exacerbated by the massive shift towards remote work. For our family, that looked like changing our garage into an office space, unsuccessfully taking up gardening, and more. Gardening is hard—sad face.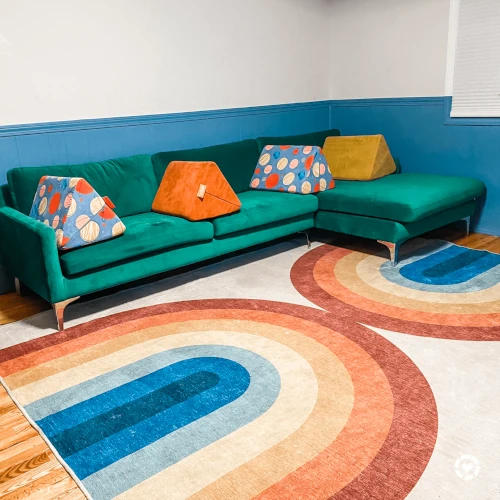 For families, the pandemic posed added challenges like the kids being home much more often and growing up, well, during a pandemic.
So, timing and behavioral shifts helped, but Ruggable has done an amazing job capitalizing by having best-in-class customer service, launching Spill™ Club Rewards, adding Afterpay to pay in installments, launching new textures like shag, launching runners and doormats, and—my favorite—executing a series of thoughtful collaborations, from Disney to Star Wars to Jonathan Adler and Keith Haring.
Online, Ruggable has crafted a massive community—1MM+ on Instagram alone—driven by authentic influencer endorsements (it feels like nearly every Bachelor contestant has, and loves, a Ruggable) and thoughtful design inspiration. Come for the rugs, stay for the beautifully curated rooms, puppies and FOMO.
Once upon a time, Crocs were a cool fad. Then, that fad ended and they were, seemingly, Crocs. But in the past few years, Crocs has roared back to the spotlight by being so much more than the incredibly comfortable shoes they are (though they are that, too). Fad no more, Crocs are now synonymous with culture—here's how they did it.
Firstly, they focused their efforts on those who are always leading the buzz: the next generation of consumers. In this case, that is squarely Gen Z. Crocs has appealed to Gen Z sensibilities, from inclusivity to sustainability to social impact, pop culture, and counter-culture.
‍

Next, they've leaned heavy into their interchangeable Jibbitz™ charms as well as off-the-wall collaborations with artists, creators, and beloved properties alike—both of which are massively shareable via UGC
Thirdly, they've also collaborated with high fashion, a ploy to democratize luxury brands to new audiences, while also "lifting up" Crocs to more of a fashion statement.
Lastly, Crocs has done a masterful job adjusting to what the pandemic has given them. Their ability to innovate against new, important use cases—front line workers, hiking, hospitality, etc—has garnered them much positive and well deserved attention.
Through it all, Crocs has proven that it shall remain timeless and crisis-proof until further notice.
Over the past few years, dare I say that Chewy has become the Southwest Airlines of the pet industry. In the wake of incumbent giants like PetSmart and Petco (think: United, American and Delta), Chewy now occupies the warm and fuzzy place in pet owners/lovers' hearts because of their deep passion for animals, unwavering customer-centricity, transparency and convenience.
No pet retailer or marketplace has taken advantage of the shift to online and ecommerce-first quite like Chewy, and it's not close. Chewy's community size online has surpassed the giants, grounded in a brand that is loving, fun, informative, clever, playful, adorable, colorful, and exceptionally relatable. It's also one that puts the brand third (let alone second) behind pets and customers.
With pets becoming our safe havens through it all recently, Chewy has doubled-down on both its give back programs (which are many and significant) and its Day In The Life content featuring amazing people taking care of animals in various important ways, from rescues to fosters to trainers and more.
Finally, we'd be remiss if we didn't mention the incredible lengths Chewy customer service has gone (which, in many cases, has gone viral) for its customers as they navigate life with a new best friend—or, in some cases, the passing of one. Here's an example of when a man asked for a refund because his dog had passed away, and Chewy sent him a very sweet handwritten note PLUS a custom portrait to commemorate his pup (tear).
Like too few brands, Chewy wins because they do the right thing every time, and they do the things that don't scale and ultimately matter most to people.
What's Cleo? Perhaps a better question is, Who is Cleo? She is the sassy, no BS, not-your-parent's money app that has taken Gen Z (yes—another brand blowing up with Gen Z because not enough companies are focused on them) by storm with AI, GIFs, sarcasm, and a shocking level of insight and utility.
Over four million subscribers use Cleo to help budget, build credit, avoid fees, borrow, save, and learn about financial health. But other money apps do that, so why do people really come to Cleo? Well, to put it bluntly, she's blunt AF and always has your back! Young people, more than ever, need financial decision-making help; Cleo's here for it, right on time.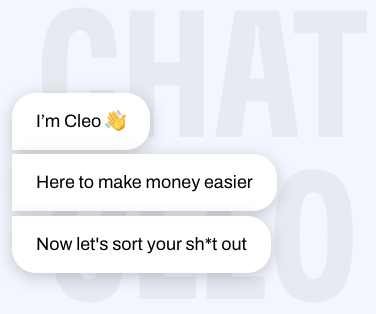 She'll roast you for bad habits/decisions (Roast Mode), hype you for smart ones (Hype Mode), and send timely reminders or alerts.
What's brilliant about the brand is that they seamlessly carry the brand into the product, site, and social experience. Gen Z speaks in GIFs, memes, acronyms, slang, and they don't have time for brands who can't speak their language. Cleo wins where others don't, because she can speak Z.
The more that brands can take a Gen Z page out of the likes of Cleo and Crocs, a treasure trove of brand love (and, in turn, revenue, runway, and profit) awaits. The LTV is worth getting smart on the next great generation of GDP. And that's the tea (look it up).
That's it for today. Tune in next time, and remember—Cart.com exists to help brands like these (and yours) grow, by helping you attract more customers, convert more sales, and seriously simplify your operations. It's like a superpowered cheat code. Like if everything you did could lead to the Kool Aid Man busting through a wall yelling "Oh Yeah!"
If you lead a brand or company, I highly recommend you check them out. I'm happy to make an intro—just lmk. You shan't regret it.
‍
Okay, see ya next time.
Matt
‍