‍Matt Kerbel is an advisor to brands with 15+ years leading world-class brands including Lyft, Call of Duty, and MeUndies. Today, he sits on the Adweek Innovators Council, is a collegiate guest lecturer and executive mentor and a LinkedIn Top Voice in marketing and advertising.
I'm brand obsessed. Cart.com is brand obsessed.
So it makes perfect sense that we've linked up on a series talking about incredible brands making some incredibly unique, thoughtful, and mission-driven moves to win hearts and drive growth.
For brands to grow effectively—from up-and-coming rockstars to household names, and all in between—they must be able to creatively and efficiently attract new customers, convert more sales and simplify operations. The end-to-end magic that Cart.com brings to the equation covers all of this and more, helping ensure brands become best-in-class and remain top-of-mind.
Today, we're going to discuss four brands thriving on the backs of a fervent community they've meticulously cultivated over time. These companies share some key commonalities. They focus on the platforms most relevant to their audience. When it comes to social, they employ a participation—not communication—strategy. They simultaneously educate and entertain. In essence, social is about people and mission. Two of them are Certified B Corps; the other two are fairly ridiculous. I'm not sure if that says something about me or about marketing.
Once upon a time, community OG, Glossier, created an exclusive Slack channel whereby top consumers and community leaders could provide direct feedback to the Glossier corporate team. That's the length a brand must go to ensure its community feels protective brand ownership and an innate desire to share this amazing thing with others.
Still with me? Allow me to elaborate.
Let's start with their name, within which embedded is the word Collaborative. Grove's mission is centered on a movement to transform household products into a force for good: conscientiously curated, ethically produced, cruelty-free, healthy, effective, and sustainable for the planet.
That, however, is just the tip of the iceberg. The company ensures every shipment is carbon neutral, and every delivery plastic-neutral. Moreover, they use social media to educate, invite audience participation, and inspire a cleaner, healthier life for all.
Conversation, idea sharing, and content happens asynchronously across TikTok, Instagram, Pinterest, YouTube and beyond. These efforts are complemented by learning via tips, hacks, and even book recommendations.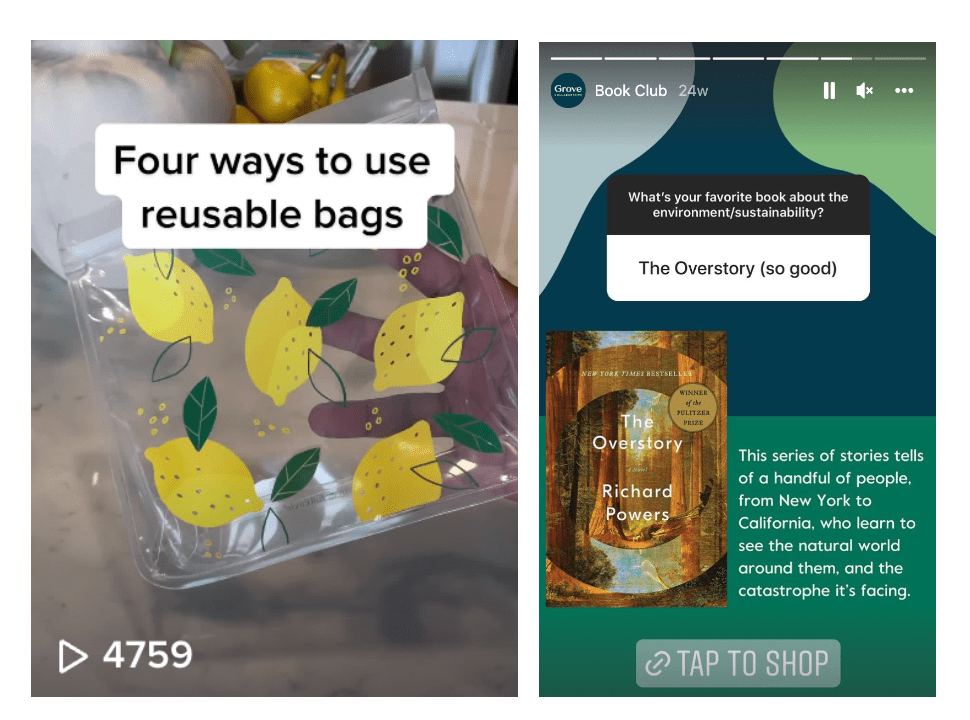 The cherry on top is a formal effort by Grove to arm its top affiliate evangelists (known as Grove Partners) with product launch sneak peeks, compelling offers to share with their audience, a dedicated team to increase audience engagement, and more. In other words, they literally employ people to help you spread the word about something you already love—for rewards.
They just teamed up with Drew Barrymore to break up with plastic. It's not you, it's … okay, fine, it's you.
"Some say that if volleyball and foursquare had a baby it'd be named Spikeball. We like to say we're building the next great global sport." That's directly from their website and both sentences are not wrong. Today, Spikeball has 4+ million players globally, and its community is both awesome and super engaged.
Why, you ask? They've made something accessible to anyone, insanely fun, inherently social, and you can play it literally anywhere. No, seriously—anywhere. On the beach. In a parking lot. In a storm or blizzard. On the water. Under water. It doesn't matter, and that's a huge part of why it's grown so rapidly.
But Spikeball, like CrossFit previously, has struck a chord in people of all generations, genders, sizes, skin colors, and abilities, rooted in a simple but universal mission to bring people together through competition and fun. And your mission is that simple, the team can focus on encouraging and igniting the community in a myriad of ways—content, events, partnerships, memes, GIFs, tournaments, gimmicks, chotchkies, etc.
A few ways in which the Spikeball community has shared their enthusiasm and brought Spikeball into their lives (and into the mainstream): Using the net as a baby 'crib'. Cooking up Spikeball-inspired baked goods. Getting fictional characters, like Santa's elves, in on playing Spikeball.
The sport has also picked up steam because the level of athletes has elevated as the company has legitimized the sport. There are national tournaments, professional athletes using Spikeball to help them cross-train, and Spikeball even shows up on Sportscenter from time to time.
The brand's future is bright, and now all I want to do is go play Spikeball. I need a partner—who's in?!
I don't even know where to start with this one. Did you know that Chubbies has 1.7 million (with an M) followers on TikTok? Yes—Chubbies, leaders of the proper-length shorts revolution, stewards of Friday at 5pm.
They represent that ideal balance of taking some things incredibly seriously (like neon), while taking most things not seriously at all. Honestly, half the time I can't tell if they're poking fun at the American Dream, playing back the American Dream to its audience, or both. But, two things are for damn certain: They're gonna have a good time and not apologize for it. And their shorts are going to be, uh, short. That's what makes them great. Chubbies represents the quintessential "Give the people what they want!"
To them … Work should be fun. A lot of time should be spent at the lake or on a golf course. What men wear should be comfortable, and not stuffy, and show off those quads. No joke should be an inside joke. And everyone should be comfortable in their own skin (and shorts).

Few brands are more consistent in ridiculousness, and it makes them stand way out. Their tone and design permeates social channels, site, email (their subject lines are pure gold), packaging, and it makes the audience want to consume and share. Eventually, that leads to sales. Case in point—after years of laughing, I bought my first couple pairs of Chubbies bathing suits this year (spoiler: I love them).
What will they do next? That's the tens-of-millions dollars in revenue question.
While this country spends a disproportionate amount of time doomscrolling and worrying about the political catastrophe of the moment, Cotopaxi is succinct and direct in its message: Get outside and do some good. The company walks the walk as a Certified B Corp, member of Pledge 1%, and routinely plays back to their audience the impact made through their efforts.
Cotopaxi has identified a key insight in that people inherently are fed up with what they see around them. There is an opportunity to experience the beauty of this planet, and to actively help others while doing so—whether that is simply by inspiring others to get outdoors, or to take action against major issues like climate change, poverty, and access to equal education.
Somehow, someway, Cotopaxi feels like Patagonia and Ben & Jerry's had a Gen Z baby. It cares equally about people and planet, boasting bright colors (of all colors) and bold type with its outward facing mission statement for all to see—DO GOOD.
And the Cotopaxi community has responded, grown, and become prouder. The brand, to them, is more than a brand; it's an opportunity to affect the change they want to see in the world, and feel less alone knowing millions of others feel the same. Maybe, just maybe, Cotopaxi will change the world.
That's it for today. Tune in next time, and remember—Cart.com exists to help brands like these (and yours) grow, by helping you attract more customers, convert more sales, and seriously simplify your operations. It's like a superpowered cheat code. Like if everything you did could lead to the Kool Aid Man busting through a wall yelling "Oh Yeah!"
If you lead a brand or company, I highly recommend you check them out. I'm happy to make an intro—just lmk. You shan't regret it.
‍
Okay, see ya next time.
Matt
‍