Matt Kerbel is an advisor to brands with 15+ years leading world-class brands including Lyft, Call of Duty, and MeUndies. Today, he sits on the Adweek Innovators Council, is a collegiate guest lecturer and executive mentor, and a LinkedIn Top Voice in marketing and advertising.
I'm brand obsessed. Cart.com is brand obsessed.
So it makes perfect sense that we've linked up on a series talking about incredible brands making some incredibly unique, thoughtful, and mission-driven moves to win hearts and drive growth.
Today, we're going to talk about 5 brands using out-of-the-box thinking to grow like wildfire. These companies have a few really important things in common. First, they are relentlessly driven by their missions. Second, they are unapologetic in their pursuit of progress. Lastly, they are masterfully in touch with modern consumer behavior and attitudes.
I can't wait for you to read all about them, so let's jump in.
A yoga company doesn't have to be boring. Or basic. Or crunchy. Rather, it can be modern, stylish, culturally-attuned and out on the street. The brand has exploded in recent years by staying ahead on fashion, innovation and purpose.
Fashion you can move with has become what Alo is known for. You'll often see them drop an entire line of new colorways, such as the recent 'Perfect Red':
This helps them capture attention, cater to what's hot that season, and create efficiencies in their manufacturing and demand planning. To take it one step further, they're tapping into social commerce—something that's massive overseas, but fairly nascent here in North America—to shop the look:
On innovation, Alo has executed on two things recently that appeal to modern consumers who are tired from the past two years: in-person experiences, such as their recent Alo House, and web3. To celebrate Mental Health Awareness Month, Alo launched the Alo Sanctuary on Roblox to provide a mindfulness, fashion and movement experience in the metaverse. What's more is that you can now purchase Alo products using cryptocurrency
Alo truly lives their purpose every day, whether it's through their products, events, Alo Gives (mindfulness platform for kids), or their commitment to keeping yoga relevant. If the future looks like digital fashion, AR, and collaborations, you won't have to think twice about who'll be ahead of the curve.
Tushy normalizes potty talk, develops design-forward and easy-to-use bathroom products, and employs an unapologetic tone to do good in the world. No, this wasn't just some ploy to get everyone to have bougier bottoms (though that's certainly part of the sell); Tushy helps people save meaningful amounts of water, while also helping to build community toilets in developing nations where open defecation leads to disease due to poor conditions and sanitation.
The team is best known for brass, entertaining content, visuals and copy. For the same reasons that a brand like Dollar Shave Club got huge—not taking what we do in the bathroom too seriously, yet at the same time seriously enough—Tushy is breaking through with Gen Y and Gen Z driven by a perfect balance of education and entertainment.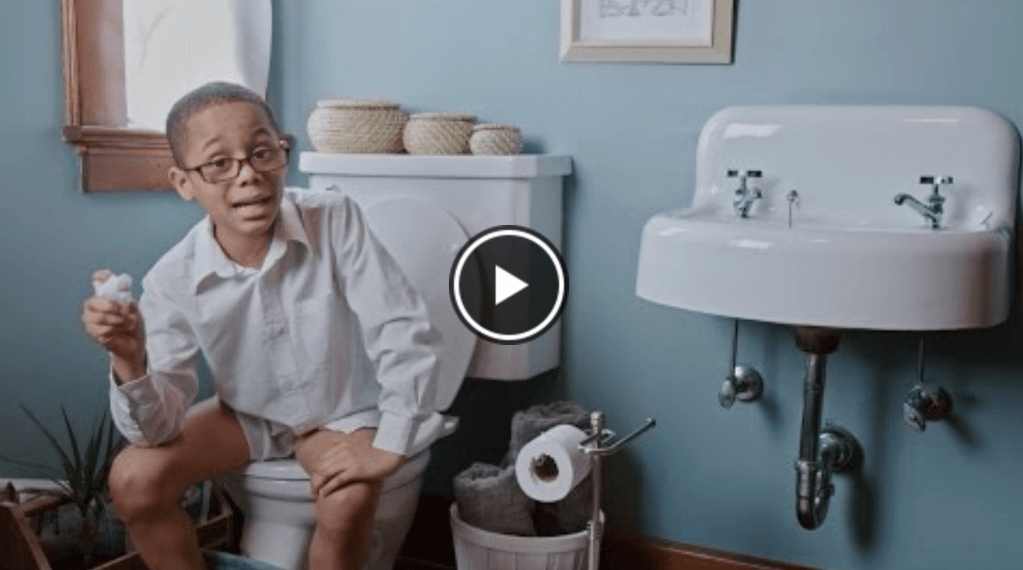 ‍
Why is this significant? Well, the next generation of consumers don't want brands to avoid the awkward subjects. They like when brands speak their minds, make them laugh, and have an unwavering point of view, especially when it's traditionally uncomfortable. They prefer to break and rewrite the rules, especially when it comes to PC marketing. In essence, they are the contrarian, anti-marketing marketing Jedis that will see through your BS.
Alas, that is why they love Tushy. For its blog 'The Posterior'; for its constant swearing and celebration of the number 2; for its acknowledgement of something everyone knows but no one wants to admit: everyone poops. Combine that with pretty products and a social impact mandate, you've got yourself a winner.
Sometimes, it's best not to overthink it when you're building a brand. Be inclusive, keep it real at all times, help others, and keep people both laughing and guessing. In the (sort of) words of Drake, "Tushy started with people's bottoms, now they're here."
Atoms makes two pairs of shoes. Two. I can count them—watch this: one, two. They are the Model 000 and Model 001. Unlike other sneaker companies that overload you with options, Atoms is essentially the In N' Out Burger of the sneaker game. Delicious.
Everything they do is refreshing because they are obsessed with customer satisfaction.
Their shoes are designed with high-quality materials so that they hold up and you don't have to buy a new pair every year. They are designed to be something you can wear in virtually every situation. They are intentionally unisex. They come in one-quarter sizes to fit even the strangest of sized feet. They comprise antimicrobial elemental copper to kill the stuff that causes odors. Even their shoelaces are thoughtful and awesome. Furthermore, they market it all beautifully. Because it's premium and they don't hide from that. On the contrary, what I love most about Atoms is their transparency and it can be summed in one ad. That ad was so beloved that it's been copied countless times over (sorry, less original brands):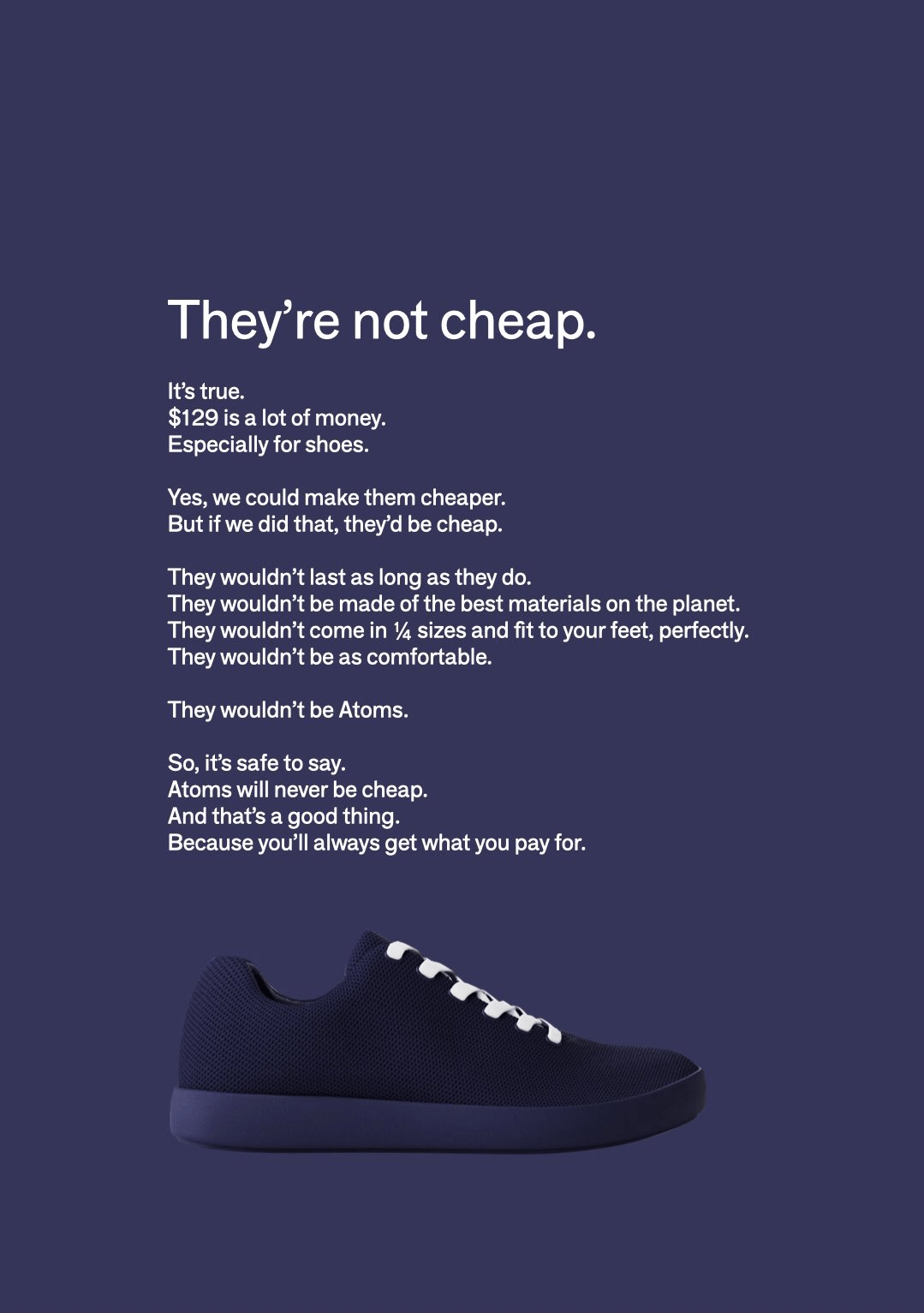 ‍
Moral of the story here: You don't need to make a billion things. Do one thing (Model 000) really really well and don't apologize for it. People will see the value and pay for it. Maybe, eventually, you'll do one more thing (Model 001). Be right back, putting on my Atoms…
The Hundreds calls themselves "a community-based streetwear and media platform with an emphasis on people over product." They were doing something extremely cool before it was ever cool to do so—mashups and collaborations—and their resolute commitment to their story and POV has rendered the brand and platform legendary. Everyone (who can afford to) wears The Hundreds because they've elevated streetwear to expressive and revered, not trashy.
If you're not familiar, the early creation of The Hundreds designs were inspired by graphic designers from San Diego, Hawaii, and Hong Kong. They have collaborated with everyone from Jackson Pollock to Nipsey Hussle to adidas, Bored Ape Yacht Club, and countless others. But the company is so much more than apparel and that's why I'm featuring it here.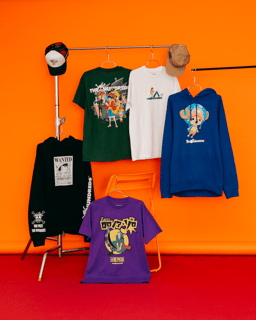 Today, The Hundreds features everything from Look Books to a podcast to NFTs and Discord communities. They have multiple blogs and even have a whitepaper (!) that discusses everything from the metaverse, to the environment, to the futures of fashion and business. Everything the TH founders, Ben and Bobby, do is in service of informing and progressing thought surrounding both preconceived taboo as well as important current issues. It's always with a lens of 'what can we learn from this.'
What this team does takes a tremendous amount of dedication and effort, but it's so obvious they eat, sleep, and breathe this stuff. They take it seriously. As Peter Parker's uncle once told him: "With great power comes great responsibility." Look them up; you'll be hard-pressed to find a more authentic platform, and that's precisely why they've achieved cult status.
Speaking of cult status and California Americana, Fender has been doing it right for 76 years and counting. The company has a fascinating origin story: Leo Fender repaired radios, phonographs, amplifiers (or amps, as you may know it) and more in the 1930s. He became intrigued by design flaws in contemporary musical instrument amplifiers and began building amps based on his own designs or modifications to designs.
Fast forward to 2022, Fender has amassed a massive global community that it honors in absolutely everything it does. Music is the great equalizer that brings people of all walks of life—all colors, orientations, identities, languages, abilities, and more—together to just play, listen, share, and enjoy.
Jump into any of their social feeds and you'll immediately notice a diverse set of individuals; it's a beautiful thing. They are constantly putting out new magical content including Re-Creation Remixed, Artist Check-In, How Does It Feel, Fender Presents, and Technique of the Week, featuring everyone from Baby Boomers, to drag queens, to Gen Z duets and countless others.
The goal is clearly to seamlessly transition Fender love from one generation to the next, and it's working. Fender has constantly reinvented itself, keeping us on our toes, leaning in and keeping our ears peeled for that beautiful, iconic sound. And while it's reinvention, it's grounded reinvention.
Grounded in a timeless vision to champion the spirit of rock and roll around the world, the spirit represents expression, creativity, energy, and passion for music and humanity.
So—brands, listen—don't go chasing waterfalls. In other words, don't reinvent yourselves just because you think that people get bored. Reinvention when rooted in core values, mission and vision that are universal is arguably the most powerful thing you can do for your company. Speaking of which, I'll catch you in the Fender Stratoverse.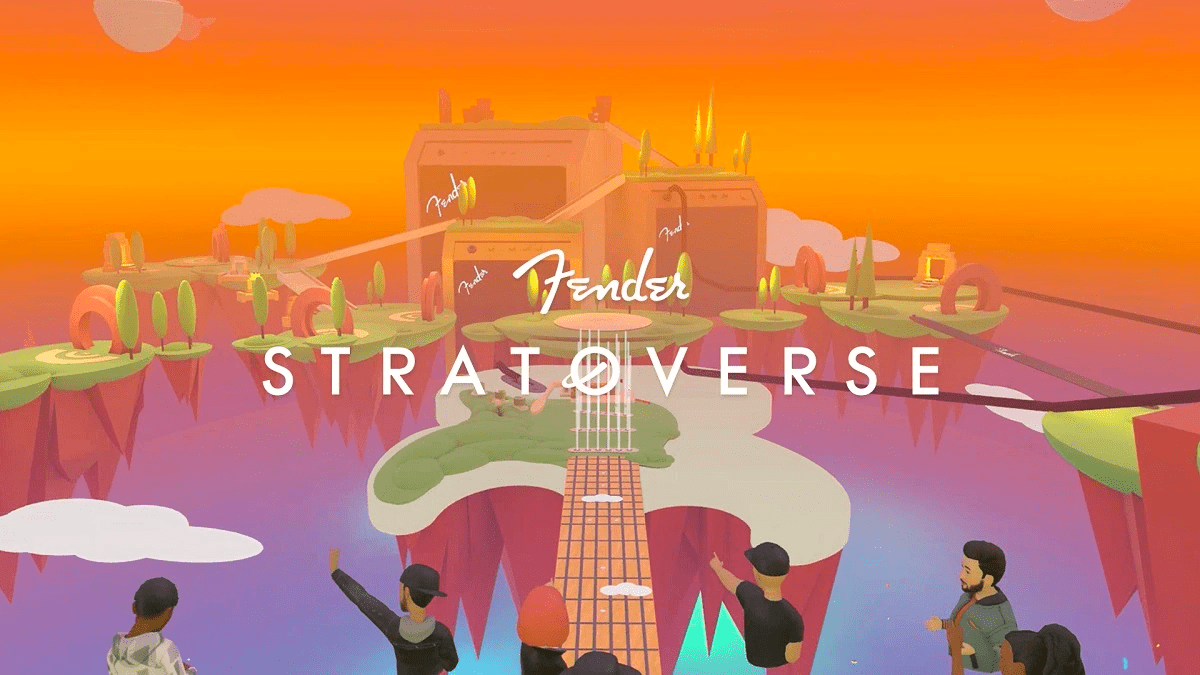 That's it for today. Tune in next time, and remember—Cart.com exists to help brands like these (and yours) grow, by helping you attract more customers, convert more sales, and seriously simplify your operations. It's like a superpowered cheat code. Like if everything you did could lead to the Kool Aid Man busting through a wall yelling "Oh Yeah!"
If you lead a brand or company, I highly recommend you check them out. I'm happy to make an intro—just lmk. You shan't regret it.
‍
Okay, see ya next time.
Matt
‍